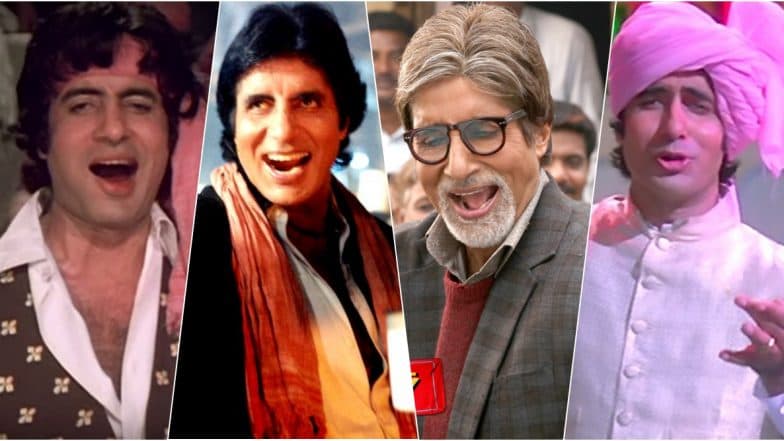 Living legend Amitabh Bachchan has been winning hearts with his appearances on the celluloid screen for many a decade now. October 11, 1942, the multiple award-winning actor is a name synonymous with the Bollywood film industry and celebrates his 77th birthday on Friday. Born on Branded the 'angry young man' very early on in his career for portraying serious roles, Amitabh Bachchan did not have the best of starts in his career. Yet through his sheer hard work, he turned around his fortunes to become the superstar of the millennium. We can gauge his popularity from the fact that despite limited dancing skills, some of the most iconic dance numbers are picturised featuring him. A look at top five party songs of the megastar that are huge hits till date. When Rekha and Amitabh Bachchan Came Together for These Shah Rukh Khan, Hrithik Roshan, Dhanush Movies and You Never Realised It!
Jumma Chumma De De
This song from the movie Hum released in 1991 is an absolute rage for its funky lyrics and catchy tunes. Although the movie tanked at the office, the song remained its standout feature and was picturised on Amitabh Bachchan and Kimi Katkar. Many years later, Salman Khan had his own version of the song "Jumma Chumma" in his movie Kick, which was a hit too. Amitabh Bachchan Birthday Special: These Throwback Pictures of Big B Will Take You on a Trip Down the Memory Lane.
Watch Video of Jumma Chumma De De
Ke Pag Ghungaroo Baandh
The fun song from 1982 classic Namak Halaal, "Ke Pag Ghungaroo Baandh" has Amitabh Bachchan in his quirkiest yet super cool avatar. Decked up in a sherwani and a pink pagadi, Big B's dance steps are GOALS!
Watch Video of Ke Pag Ghungaroo Baandh
Apni Toh Jaise Taise
Kishore Kumar was the melody king and his combination with Amitabh Bachchan would more often than not prove to be a winning one. He sang for the icon in Laawaris and the song "Apni Toh Jaise Taise" till date is favourite for the DJs who come up with their very own compositions of the song.
Watch Video of Apni Toh Jaise Taise Thodi Aise Yaa Waise
Khaike Paan Banaras Waala
The song as revealed by Amitabh Bachchan in one of his tweets was not part of the movie Don originally but somehow made it and what a dream run it has had. Mr Bachchan nonchalant dancing skills make it one of his most endearing songs and was later picked up by Shah Rukh Khan for his own version of Don.
Watch Khaike Paan Banaraswala Khul Jaaye Band Song Video
Jawani Jan-E-Man
Namak Halaal is one of Amitabh Bachchan's most iconic movies, and it had an item number that people of today's day and age can groove on. "Jawani Jan-E-Man" sung by Asha Bhosale and composed by the legendary Bappi Lahri is smooth sailing and made popular by the flawless Parveen Babi and a few steps by the man himself, Amitabh Bachchan.
Watch Video of Jawani Janeman Haseen Dilruba
Party To Banti Hai
Bhhotnath Return's "Party Toh Banti Hai" sung by Mika Singh and music by Mit Brothers definitely has to be Amitabh Bachchan's biggest party anthem in recent years. Dancing with kids, the choreography has been done to perfection as it has the megastar's signature steps.
Watch Party to Banti Hai Full Video Song
There are many, many more tracks in Big B's five-decade-long career that can set the dance floor burning. He is truly the Shahenshah of Bollywood. LatestLY wishes Amitabh Bachchan a very Happy Birthday and truly Party Toh Banti Hai!