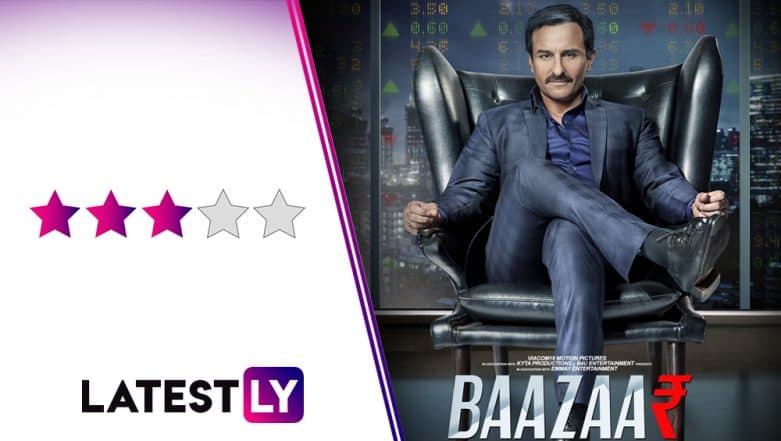 Saif Ali Khan returns with Baazaar - a rather commercial outing after his dark comedy Kaalakaandi. The movie as we all know revolves around stock trading and how brutal that world is. Directed by Gauravv K Chawla, it deals with a relationship between an idol and his protege. It's intriguing and nothing extraordinary at the same time. The world is selfish and Saif does a fine job in conveying the message. Rohan Mehra makes a decent debut. It's his innocence that conveys the right emotions. But is he able to stand as tall as Saif or Radhika in the film? Is he the dark horse of this entertainment industry? Well, it's time to answer your questions.
Rizwan Ahmed (Rohan Mehra) is a small town boy who wants to make it big. He idolises Shakun Kothari (Saif Ali Khan) who's a successful businessman. He wants to follow his footsteps and taste the same success. He's even willing to go against his father's wish to fulfil his big dream. He's immensely confident of his talent but nothing is so easy in this big bad world. What happens when he lands in Mumbai? Yes, his dreams are fulfilled but at what cost? He doesn't realise he's a mere puppet all this time and his idol is, in fact, using him as a pawn for his big game. What happens when his fall is even deeper than his rise? How is he able to defeat the mighty Shakun Kothari and is he a marathon runner or a 100 Meter sprinter? These answers should just describe what the movie is all about.
The film's story is nothing unusual. For the ones who have seen Michael Douglas' Wall Street would easily understand certain references that are subtly used in the film. Rohan's character is quite ambitious and very clever. Yet he is never able to bag a deal or find a solution by himself. Guess the fact that he's spoonfed throughout the time makes him too lazy to use his brain. It's not a movie that is restrained to stock market merely. It's a story of a fascinating world and how everything comes with a price tag there. The debauched rise and fall of Rohan's character and his fascination that turns into a nightmare. Don't expect the scenario to be something similar to the Wolf of Wall Street. The movie is far away from it. It deals with emotions and business strictly. No time is wasted in establishing the side that's not crucial. It simply spins around Saif's humble rise into a greedy and self-centered businessman and Rohan's middle-class mentality that rescues him in the end.
Dialogues are whistle worthy in the entire film. Especially the ones written for Saif. Dialogue writer has invested enough time in knowing the characters' mentality. Songs are unwanted but since they are mostly played in the background, one shouldn't mind them much. Background score is satisfactory as well.
On its downside, the movie's climax is too weak. It's a Bollywood movie and a hero has to win in the end. The same belief takes this movie a step below. It's gimmicky. It's not possible to defeat someone as omnipotent as Shakun Kothari in a game that's designed by him. Yet Rohan does it as easily as one, two, three. It's too predictable and seems rushed.
Coming to performances, Saif is BRILLIANT throughout the film. It won't be wrong to say that he carries the entire movie on his able shoulders. He's charming, ruthless, suave and a money-minded businessman. Minting money is not his passion but hobby instead. The actor gets the right dialect as a Gujarati businessman who hails from Surat. He's witty and too smart. He's someone you don't want to mess with and his good books is a place where everyone would want to be. It was a delight to see him essay such a powerful character after so long. The movie totally and completely belongs to him. The actor, in fact, is so good that every Gujrati will be compelled to say 'Su Waat Che.'
Rohan makes a good debut but there's something off with his screen presence. You like him but you don't like him. Probably if he works on it in future, he could easily be the next charming actor in Bollywood. Otherwise, he's fine. He doesn't come across as a newcomer. Dialogue delivery is decent and he's someone who can be easily groomed.
Radhika Apte and Chitrangda Singh are wasted in the entire movie. Or they simply fail to shine against someone as powerful as Saif. Chitrangada as a perfect wife and tolerating wife is highly okay. Probably it's the way her character is written that doesn't justify the actress in her. We have seen Radhika ace some brilliant roles in the past so this one isn't whistle worthy at all.
The direction is fine but certain references from Wall Street are hard to ignore. I wonder if the movie was made keeping this classic in mind and hence so many similarities.
Yay!
Saif Ali Khan
Dialogues
Screenplay
Nay!
Climax
Radhika Apte
Chitrangda Singh
Final Thoughts!
Overall Baazaar is a decent watch and you won't regret buying tickets for it. Watch it for Saif Ali Khan and if getting entertained is the only important factor for you. He's one investment you should definitely make this weekend.