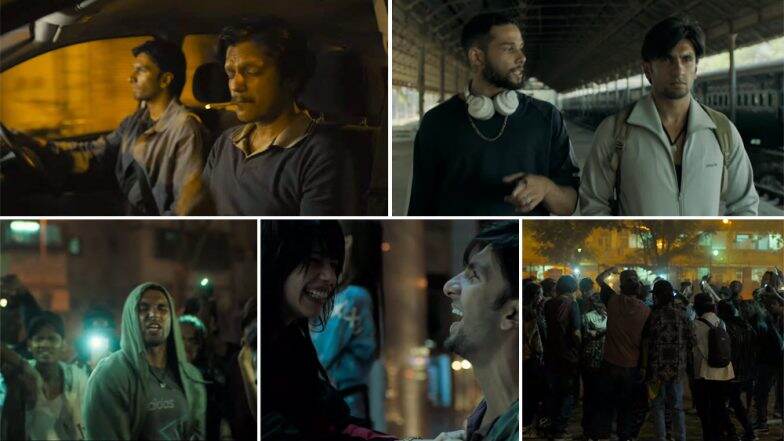 The "Azadi" Song first made its mark during the whole JNU controversy, when the likes of young leaders like Umair Khalid were seen singing this number. The song was their form of protest in seeking freedom (Azadi) against all social evils like corruption and patriarchy. "Azadi" now makes its way into Gully Boy album, though in a very sanitised version. The popularity of the song in the Gully Boy album even prompted BJP and Congress to have their own versions of the song, target each other. Azadi Battle Between Congress and BJP on Twitter; Watch Videos of Two Political Versions Of The 'Gully Boy' Song.
We now have the video of the Gully Boy version of the song that shows the turbulent state of mind of its main characters. While Ranveer Singh's character and his compatriot, played effectively by Siddhant Chaturvedi, are seen rapping at various instances in the song, we are not sure if they are rapping to this one. However, "Azadi" reveals the angst of Ranveer's Murad, as we see him carjacking vehicles to the domestic abuse he faces at home. Gully Boy Music Review: Rocking Raps, Soulful Melodies, Politics With A Version of Kanhaiya Kumar's Azadi Slogan And More; This One Is a Brilliant Package.
We are also offered glimpsed of his romance with Alia Bhatt's character, who plays his girlfriend, as well as Kalki Koechlin's. Watch the video below:
"Azadi" is composed and sung by DIVINE and Dub Sharma who have also crooned and wrote the lyrics for the song. It is extremely catchy and effective, and is a standout in the soundtrack.
Gully Boy is directed by Zoya Akhtar and is produced by her brother, Farhan, under the banner Excel Entertainment. The movie also stars Vijay Raaz and Vijay Varma. Gully Boy is slated to release on February 14.