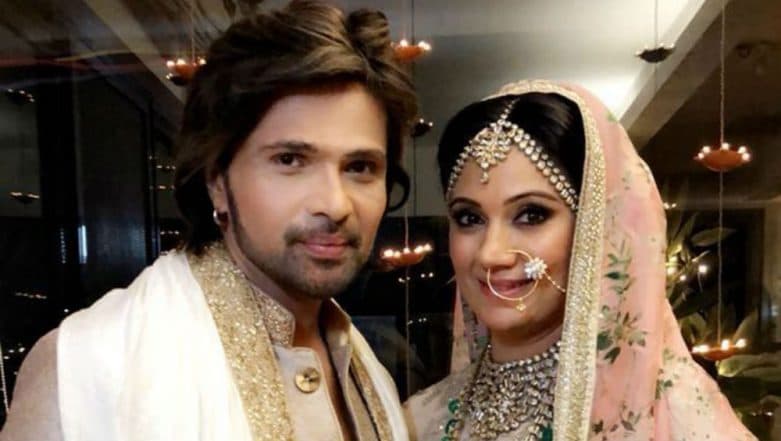 Aashiq Banaya Aapne singer Himesh Reshammiya tied the knot with long-time girlfriend Sonia Kapoor last night in a traditional Hindu ceremony at the singer-actor's residence. Himesh took to Instagram to share a few wedding photos and we must say that the couple looks adorable! The ceremony was a close knit affair with just close family and friends, including Himesh's parents and his son Swaym.
Himesh excited to embark on this new journey mentioned "I am really happy that Sonia and me have started this new journey, she is a lovely girl and I have loved her unconditionally and the same is with her" while his lovely bride in pink gushed "Himesh is a wonderful human being and my soul mate . He means the world to me and I am very happy to start this beautiful journey with him."
This is third wedding to take place this week of May after actress Sonam Kapoor married Anand Ahuja, a Delhi-based fashion entrepreneur on May 8 and actress Neha Dhupia who got hitched to actor Angad Bedi on May 10.
"Hey friends my brother and business partner Himesh Reshammiya and Sonia Kapoor will be getting married at his residence with a simple ceremony tonight on May 11. It is a simple ceremony to be attended by close family and friends," said Rakesh Upadhyay in a statement on Himesh Reshammiya and Sonia Kapoor's wedding.
Himesh Reshammiya, 45, a popular face of the Indian film industry was previously married to Komal for 22 years before announcing divorce in September 2016. Himesh had married to Komal when he was 21, and the couple also have a son named Swayam. At the time of separation, the former husband and wife cited compatibility issues however sources hinted the presence of a third person in their relationship. It was Sonia Kapoor who is believed to be in a relationship with Himesh Reshammiya for over a decade. While we all know the multifaceted singer, actor, music director, composer and reality television judge, it is time to know Sonia Kapoor, Reshammiya's second wife and love of his life.
The couple will be leaving for their honeymoon on Sunday. Post marriage Himesh will be announcing two new films as an actor. His wife Sonia will not be taking up any acting offers now as she wishes to focus on family.