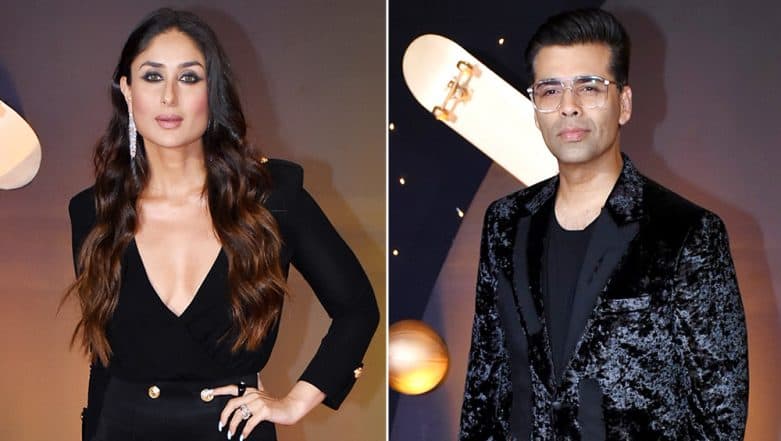 The film fraternity gathered under one roof last night to celebrate 20 long years of Kuch Kuch Hota Hai. The film marked Karan Johar's debut in Bollywood, as he went on to become one of the top filmmakers eventually. So, it was a big day for him and his best friend Kareena Kapoor Khan was also present at the event. When Bebo was called on stage to give her tribute to KJo, poking fun at him, she said, "... So, of course, we are here to talk about the man who has an exceptional place in my heart, in my life and many many Whatsapp groups" and the crowd burst out laughing. With Alia Bhatt Out of the Picture, Sidharth Malhotra and Varun Dhawan Are Back to Being Friends – See Pic.
"He is my partner in crime, in gossip, industry information... He is my go- to person, for a fashion tip," Bebo continued to say. "And I really hope that he stops judging reality TV shows and hosting talk shows and stops pretending like he is the Kim Kardashian of our nation." That was a hilarious end and one helluva tribute! After all, that's what best friends are for, no? they make fun of you but you know that you've always got their back! Kareena and Karan's friendship is unbreakable and we all know how thick they are! 5 Awkward Moments From '20 Years of Kuch Kuch Hota Hai' Celebration Event - Watch Video.
Watch Kareena's hilarious message for Karan Johar here-
Alia Bhatt was also asked to talk about Kuch Kuch Hota Hai and like every other girl who grew up in the 90s, she revealed how she aped Kajol's look from the movie.
When Varun Dhawan was called on stage to talk about the film, he raised a valid question. "As a kid, I always wondered how SRK had wet hair throughout the film... was it gel, was it water? What was it?" Wonder what Shah Rukh said to that? Well, he had an epic reply to that too. Watch the video below to know.
The event last night was also attended by Abhishek Bachchan, Archana Puran Singh, Farida Jalal, Janhvi Kapoor, Ishaan Khatter, Sidharth Malhotra, Badshah and many more.