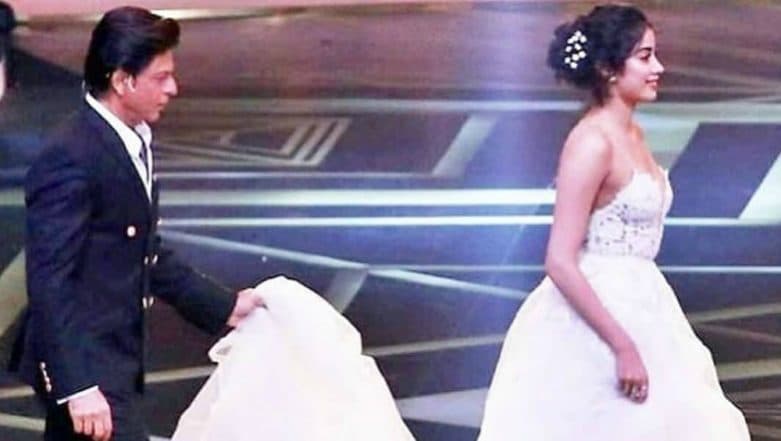 Bollywood might boast of talented actors and biggest of superstars, but there can be just one Badshah - Shah Rukh Khan! The 53-year-old who has ruled the Hindi cinema industry for over 25 years has traits that place him above the rest. One such distinguishing characteristic is his chivalrous attitude. King Khan is an epitome of the chivalry, and we got to see it again during the recently held Lux Golden Rose Awards 2018. A picture from the awards show is going viral that shows SRK helping Dhadak actress Janhvi Kapoor with her voluminous gown. And the fans cannot stop going gaga over this memorable moment. Shah Rukh Khan Ruling Bollywood for 26 Years & These 26 Pictures of King Khan in Black Will Make Your Ovaries Explode With His Charm!
Lux Golden Rose Awards, an event that celebrates the style, grace, elegance and ultimate power of women of the industry saw King Khan win our hearts. A photo shared by various fan pages on Instagram showed Shah Rukh helping Janhvi with her gown as she walked. The 21-year-old actress who made her Bollywood debut earlier this year had worn a white lace gown from Reem Acra. As for King Khan of Bollywood, he looked royalty in a white shirt and a three-piece suit as he held long trail of Janhvi's dress. Shah Rukh Khan Spends a GOLDEN Evening with Kareena Kapoor Khan, Karisma Kapoor and Sharmila Tagore - View Pic.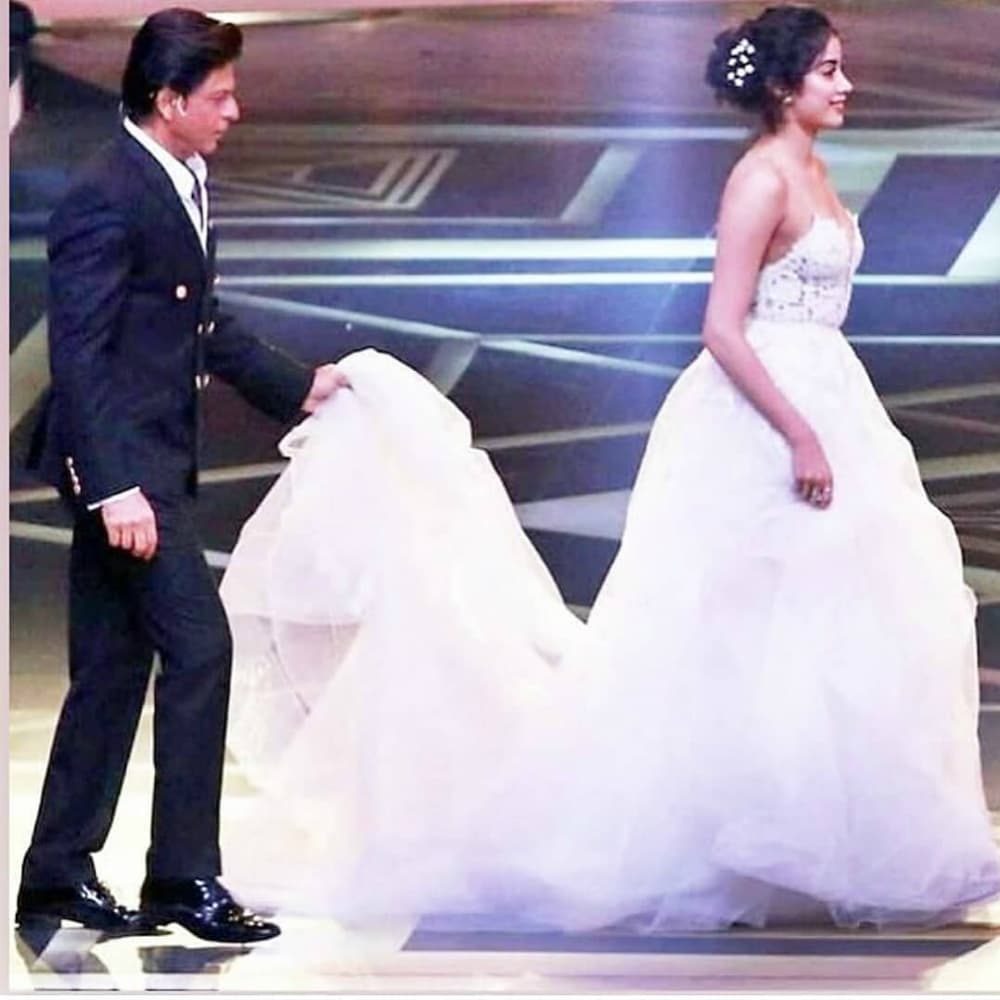 Shah Rukh Khan is known as for gentleman's behaviour in the industry. Silver screen's 'King of Romance' is also a charmer off it, with his caring, respectful and gentlemanliness towards women of all ages. His co-star Katrina Kaif had once said, "He (SRK) is very gentlemanly. He will always open the door for you. If you come in, he'll stand up and he always pays attention to the small things." For actress Sonakshi Sinha, Shah Rukh is the most chivalrous actor she has met. Sona was quoted saying, "I would love to (work with him) as well! Other than being the superstar that he is, I think he is a wonderful and humble person! Possibly the most chivalrous actor I've met." The list is too long with everyone being in love with SRK, the ultimate gentleman of Bollywood.
As for Shah Rukh, the man has always credited his success to the women in his life and particularly how his actresses have helped him. In an old interview, SRK was quoted saying, "I lost my father, then my mother, early on." He continues, "But the women in my life – the actresses – have helped me immensely. Everything I am is because of them. They are doing all that work and, mostly, I take away the credit for the film. I'm Shah Rukh Khan. None of them has become Shah Rukh Khan, and I hope they do. I'm not trying to be pompous about myself."
He further added, "Madhuri Dixit has held my hand in those dancing scenes, and I'm not leading her, she's leading me. Juhi Chawla taught me how to do comic timing, Kajol taught me how to cry. They worked their asses off and then, at the end of the film, it's 'Shah Rukh Khan: the superstar'. And I know it. I can't deny it. And I can never ever forget I am [there] because of women. All my chivalry, goodness, gentlemanliness only stems from the fact that it's my way of saying thank you. They are fabulous in the films. In every film." Wow!