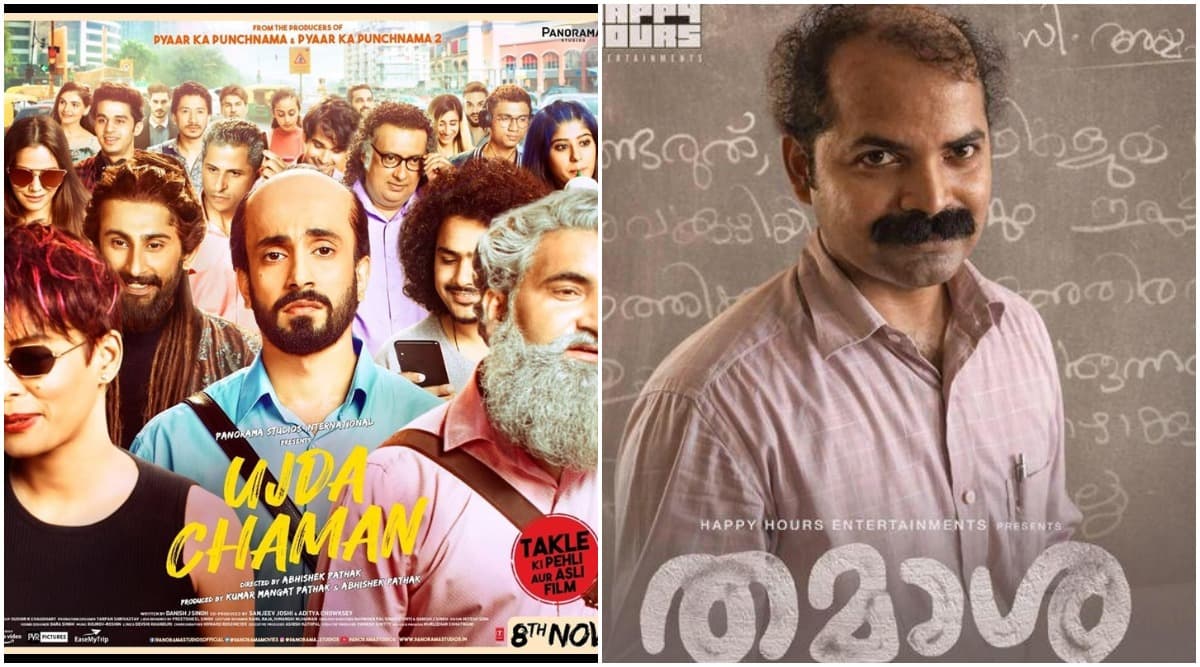 Let me start this article with an apology. I haven't seen the Kannada film, Ondu Motteya Kathe, that inspired this week's Bollywood film, Ujda Chaman. I have heard really good things about that movie, but regrettably didn't get the time and opportunity to watch it. Instead, I had watched the Malayalam remake of the film, Thamaasha, that came out this year, and had made it to the list of my favourite films from Mollywood in 2019. So I am using this Malayalam flick as a yardstick to talk about how Ujda Chaman is a missed opportunity to tell a heartwarming story. Ujda Chaman Movie Review: Sunny Singh, Maanvi Gagroo's Film Is a Loud, Insensitive Comedy That Does Harm to Its Cause.
Okay, now I know that it is kinda unfair to compare one remake with another, as both Thamaasha and Ujda Chaman feel like two different movies, both in their treatment and in how the narratives have been changed. But I am a mere human being and a lover of good entertaining cinema. So forgive me when these comparisons do pop up in my head, whenever I watched a scene in Ujda Chaman and cringed at it, while thinking how nuanced the same scene was treated in Thamaasha. (Some MAJOR SPOILERS AHEAD).
The Humour and The Casting
For one, the actor who plays the lead role is Thamaasha, actually has premature balding problems, unlike the bald cape that Sunny Singh wears in Ujda Chaman. But authenticity is the least of the issues that makes Ujda Chaman an inferior clone of Thamaasha. Insensitivity scores higher.
Picture this. Thamaasha opens with a scene where the 30-year-old balding protagonist Srinivasan (an excellent Vinay Forrt), who is a college lecturer, finds a badly-done sketch of himself by a student and takes him to the principal. The latter admonishes the student, but in the process, inadvertently pokes fun of Srinivasan's baldness comparing him to the student's father.
It is a fun start to the film, but the humour lies in not laughing at the protagonist, but the narrow-mindedness of his superior, who doesn't even know the age of his employee. He didn't crack any joke, but genuinely thought that Srinivasan was older.
Watch The Trailer of Thamaasha below:
A similar scene is played in Ujda Chaman. Here the protagonist is for some reason named Chaman (Sunny Singh), just so that you can have that title. Anyway, there is a pesky student in his class who always calls him 'takla' or 'ujda chaman'. Like with the Malayalam film, Chaman also takes this kid to the principal, leading to the latter making the same mistake about his age. But it doesn't end there; the principal goes on to insult the lecturer even more, and asks the student to call him 'takla' again because he doesn't have the change for the fine paid by the kid. This is the humour of Ujda Chaman.
Watch The Trailer of Ujda Chaman:
Unlike Thamaasha that seeks the laughs and the smiles in the awkward situations that Srinivasan finds himself in, in Ujda Chaman, the gags rely on the loud behaviour of everyone around the hero, and the various insults that are poured upon him.
The Protagonist
Even the protagonists of both films are different from each other as chalk and cheese, despite sharing the same story and plight. Srinivasan is a man who is insecure about his condition, and yes, he doesn't get a matching marriage alliance because of it. But the man is shown to not be a trier, because of his insecurities. When he uses ideas borrowed from the college peon and his one friend to woo a colleague, it seems to work in his favour. But his insecurities come into play when he sees her eyeing a new good-looking male lecturer and thinks she will fall for him. The key part here is he 'thinks'. Srinivasan doesn't even bother to see if his object of affection really wants to be with the other person. A wistful, almost angry glance by that female towards Srinivasan later in the film hints that she might be angry with her for not giving their relationship a chance. From Fahadh Faasil's Kumbalangi Nights to Mammootty's Unda, 7 Malayalam Movies of 2019 to Watch If You Want a Break From Bollywood Masala!
His outlook towards others is also flawed when he refers to Chandni, whom he doesn't recognise while meeting for an alliance, as a fat girl. It is uttered nonchalantly, and he is embarrassed by it, which makes their conversation afterwards awkward, made even messier when he loses his wig. The alliance breaks, but it is not because he didn't find her appealing enough, it's because they didn't start on the right note.
That's not the case with Chaman. The man may be insecure about his baldness, but he is as myopic as everyone around him when it comes to physical beauty. He may not be getting girls to marry him, but he sure wants someone hotter to spend her life with him. So whenever he refers to plump Apsara (Maanvi Gagroo) as a bhaisa a couple of times, we wonder if she deserves a better man in her life. She sure does. Not just that, Chaman is also given some very creepy traits like stalking a good-looking colleague while she is teaching in class, or dilly-dallying with his 20-year-old student, thinking she is into him.
Chinnu vs Apsara
You will also love the way how the female lead in Thamaasha has been treated. Chinnu, played by Chinnu Chandhini, is comfortable with her weight and loves to gorge on her pastries. She isn't bogged down by what the society thinks of her and lifestyle. The only time she reacts to what people say is when Srinivasan is bothered by the comments on their selfie together, which are vicious.
Even the relationship between Chinnu and Srinivasan, after the initial wrong footing, is of a great camaraderie rather than a shoe-horned romance. The movie hints at a possible romance between the two, but doesn't delve into it, letting us guess the outcome. So even if Thamaasha is about Srinivasan, in the end, it is Chinnu who steals our (and Srinivasan's) admiration and walks away as the hero.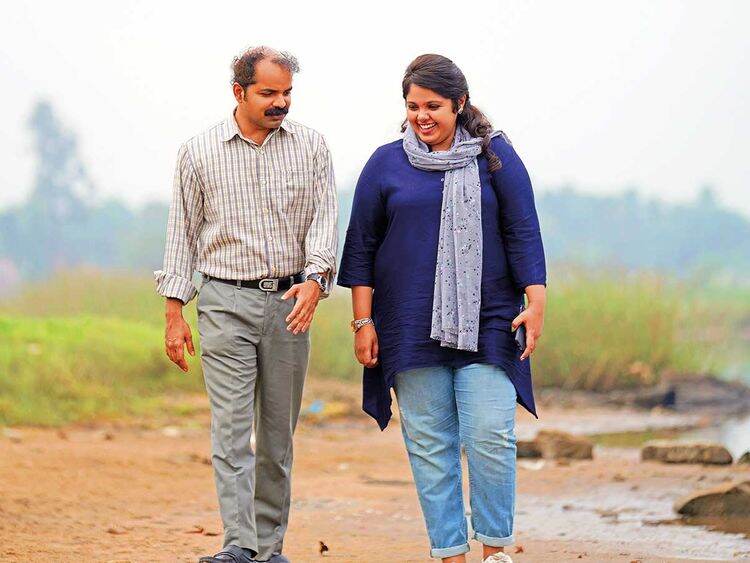 Ujda Chaman's Apsara (Maanvi Gagroo, who's really good) also shares some traits with Chinnu in that she is cool about her weight and has a love for pastries. Even she doesn't take a liking for Chaman, but after spending a night together in the hospital post a scooter accident, warms upto Chaman. But when her parents prod her into marrying him, she readily agrees to it, even though they never really talk about it. The selfie, that plays an important aspect in Thamaasha in highlighting the inferior complex of Srinivasan, and the emotional strength of Chinnu, is treated here as a mere romantic contrivance in Ujda Chaman.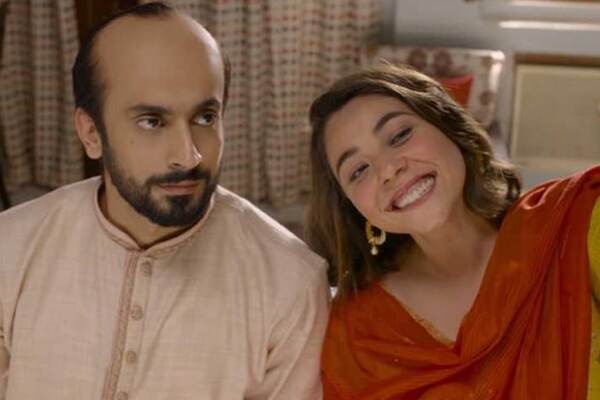 Near the climax, when Chaman finally takes the guts to tell her that he was never interested in Apsara, at least she takes it upon herself to call off the engagement, even though she gets abused in the process. Towards the end, though, she readily accepts him back, when Chaman comes to her all apologetic. After all, it is a Bollywood film, and the heroine is to accept the hero, no matter how flawed.
The Supporting Characters
Also, see how Thamaasha and Ujda Chaman treat their supporting characters. In Thamaasha, they feel like natural characters, who may not be open-minded about Srinivasan's baldness, and some of them even make scathing remarks about it. But they aren't bad, just ignorant about not being apolitical about their comments. The only hateful ones we see are those faceless trolls that comment on Srinivasan and Chinnu's selfie. And when that happens, it is the students from Srinivasan's college that come out in support of their lecturer, when his colleagues ask him to get it taken down. In those scenes, we realise that there is humanity left in this world, after all.
Not so much in Ujda Chaman, whose characters remind you of the hatred spewing on social media, where every character, from Chaman's students to Chaman himself, acts in a putrid, caricatured manner. The only person with some grace, apart from Apsara, is the college peon character, played by the underrated Sharib Hashmi, who has the best line in the film.
So if you want to see a humorous but sensitive take on premature balding and the problems that come with it, I highly recommend you to go for Thamaasha, or the Kannada original Ondu Motteya Kathe. But if a mere excuse of a whimsical premise that generates some insulting gags is enough to satiate your funny bone, then perhaps, you might be okay with Ujda Chaman.
(Disclaimer: The views expressed here are those of the author and do not necessarily represent or reflect the views of LatestLY.)