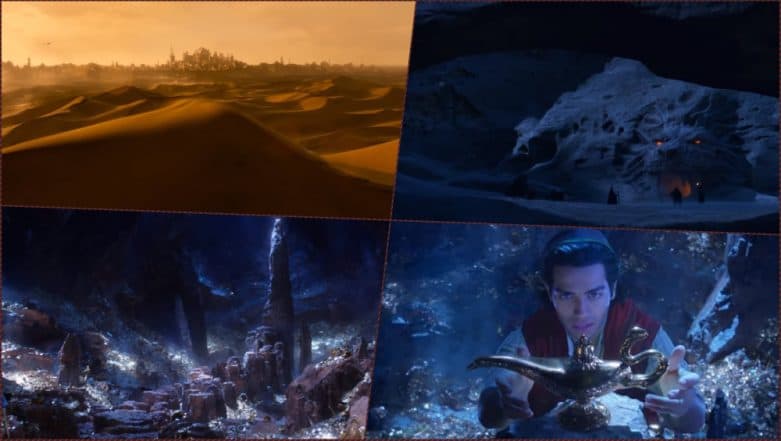 The teaser trailer of Aladdin, Disney's live-action movie, slated to release in Summer 2019, was dropped on Thursday. And it looks exciting, for sure. Those who have watched Disney's 1992 animated film Aladdin will be delighted with the opening scene – City of Agrabah in the middle of the vast desert. The bird's eye view of the city shows rolling expanses of sand till the gorgeous skyline of the Sultan's palace is visible. We see a line of camels and parrot presumably Iago, and just when you thought the trailer ended, the teaser introduces Mena Massoud as Aladdin, the street urchin and our film's hero! Aladdin Movie Official Poster OUT: Will Smith 'Can't Wait' for Everyone to See Him As Genie in Disney's Live-Action Film.
Apart from the dunes and Sultan's palace, the first teaser also takes us to the mystical cave. A powerful roaring voice is heard saying, "only one may enter here…one whose worth lies far within…the diamond in the rough." And it is here we see Massoud's Aladdin standing at the entrance of a lion-faced cave. We do see a back shot of a man holding the snake sceptre wand as Aladdin is entering the cave. Well, this person is most definitely going to be, Zafar, the evil sorcerer and also the Grand vizier of Agrabah who is desperately seeking the magic lamp (Come 'on, we all know the plot).
Viewers get to see the magical cave full of valuables, gems, precious stones, coins and a mountain of wealth. But the all-powerful magic lamp is what Aladdin is seeking, and we finally get to see him hold it in the last frame. This scene also gives us a closer look at Disney's new hero. Unlike the animated film, where Aladdin was thinner, Mena Massoud looks more muscular and less charming (it could be just me!!).
Watch Video of Aladdin Teaser Trailer, Disney's Live-Action Movie
One of the notable absentees in the first teaser was, of course, Princess Jasmine aka Naomi Scott, essaying the character. We are still waiting to see Will Smith in blue jinn avatar as Genie. And very importantly, there's no sight of Abu, the timid monkey and Aladdin's best friend. And seeing Aladdin enter the cave without Abu does not make any sense. Well, guess, we have to wait for the full-fledged trailer for our questions to be answered.