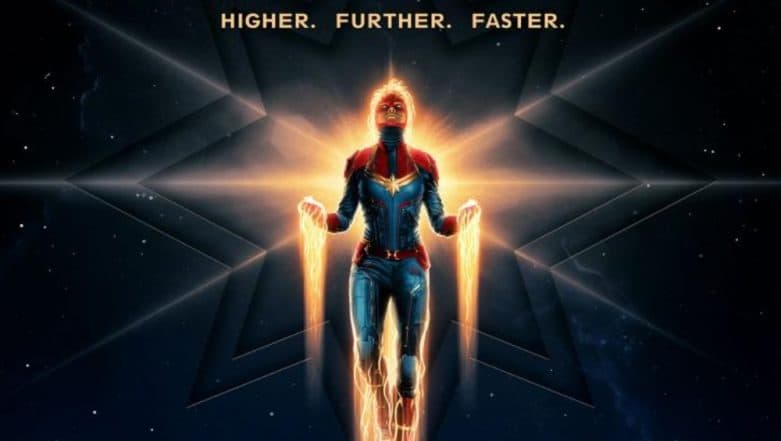 Excited is an understatement to express how eager everybody is for MCU's first female-superhero feature film, Captain Marvel. From the trailers and promos, it seems like a predictable plot, however, we can't wait for it because it will fan out more theories regarding Avengers: Endgame. To make things more exciting, Captain Marvel's team has shared a new poster that just has Brie Larson as Carol Danvers in her Captain Marvel suit.
The poster is pretty cool as it has Captain Marvel soar above the surface of the earth and looks way too cool while doing so. Just yesterday, the makers released an international poster of the film with all the important characters. Starting from Nick Fury to Goose, all the pivotal characters have been put on the poster and it sure looks very intriguing.
Here's a look at an exclusive poster for Marvel Studios' #CaptainMarvel, created by Matt Ferguson (@Cakes_Comics)! (via @ODEONCinemas) pic.twitter.com/cWliUo0Bf8

— Captain Marvel (@captainmarvel) February 5, 2019
Along with the poster, a video clip was also released by Marvel where Larson as Carol Danvers is stating how she is having these odd memories but is unable to decipher what the real deal is and whether they are real. She is discussing the same with Nick Fury (played by Samuel L Jackson) and adds that her past could be the key to everything that is happening. Now we can't wait to see what is the past that Danvers can't fathom.
"Something in my past is the key to all of this." Get tickets to Marvel Studios' #CaptainMarvel, in theaters March 8: https://t.co/siieRjKIgz pic.twitter.com/lIavP51AhK

— Captain Marvel (@captainmarvel) February 5, 2019
The film is set to release on March 8. The movie also stars Jude Law, Clark Gregg, Lee Pace, Djimon Hounsou, Gemma Chan, to name a few. Captain Marvel has been directed by Anna Boden and Ryan Fleck. Brie Larson will reprise her role as Captain Marvel in Avengers: Endgame.