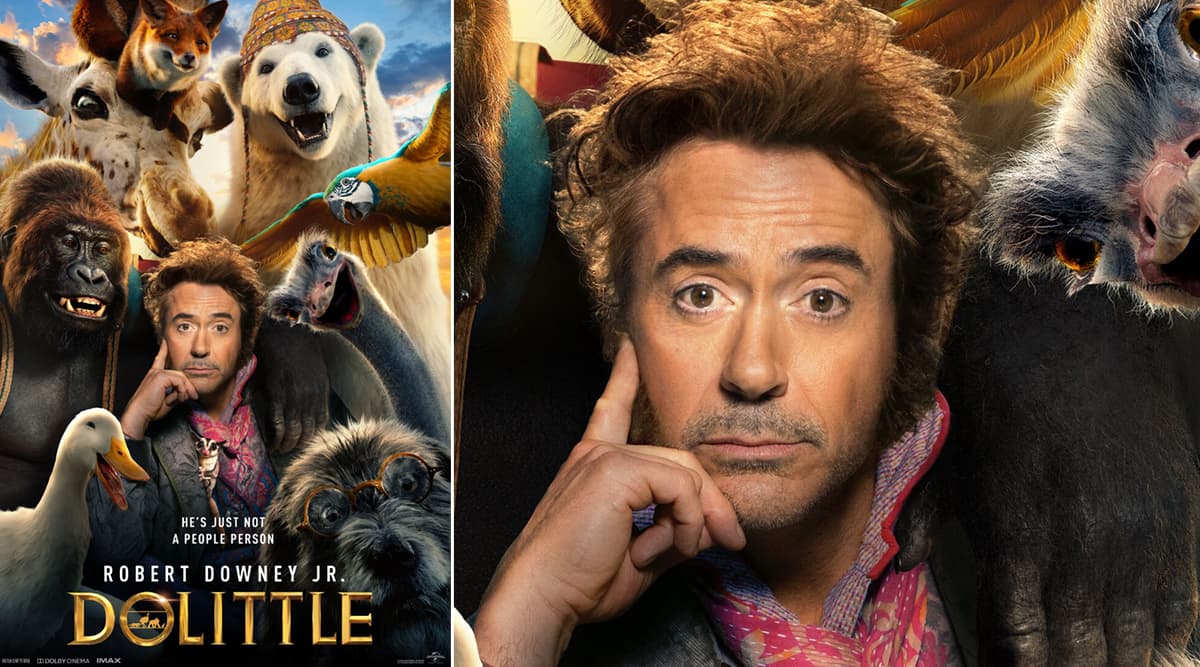 After making fans go gaga over his stellar act as Iron Man in the Marvel Universe, Robert Downey Jr is ready to entertain one and all with his next, Dolittle. This one is a remake of the 1998 film Dr Dolittle starring Eddie Murphy as the lead. In the revamped version, Downey Jr is joined by some wild creatures who are voiced by many well-known faces from Hollywood which includes Selena Gomez, John Cena, Rami Malek and more. The film's first as well as second trailer was well received and created quite a curiosity among fans due to the visuals. Dolittle Posters: Robert Downey Jr Joins Hands with Tom Holland, Selena Gomez, John Cena and others in His Next Release.
Dolittle releases in theatres on January 17, 2020, and just incase if you are planning to go and watch the entertainer in the theatres near you, all we would say is that, have a look at a few reviews below. As it can change your decision totally. Dolittle First Look Poster: Robert Downey Jr as Dr John Dolittle Surrounded by Furry Friends Is Simply Cute (View Pic).
The National: Dolittle is an unmitigated disaster. But to blame just one person for its failing doesn't seem fair, as a lot of people obviously made a lot of bad choices during its development and production. There's Robert Downey Jr's incomprehensible performance as the titular veterinarian, a threadbare plot that somehow unfolds like it was an afterthought, while dozens of mangled jokes and failed punchlines are ruined by either its writing, direction, deliveries, or visual effects, sometimes all of them at the same time.
Cultured Vultures: A choice was made to have Dolittle speak with a Welsh accent in this movie, as well as speaking in a strange, almost whispering voice, and this is clearly something that Downey struggled with. It's apparent that much, if not most, of Downey's lines had to be re-recorded, as a lot of the time Dolittle speaks there is great effort in hiding Downey's mouth, either through reverse angles that don't show his face or objects obstructing the view of his mouth. In a handful of scenes where the film can't cut away from his face, you can see his mouth movement doesn't sync perfectly with the dialogue, most likely as a result of re-recording lines.
Check Out The Official Trailer Of The Film Here: 
Echonetdaily: Robert Downey Jr brings his humour with him, but in a much more family-friendly way. The humour is not just for children, a lot of the jokes will land with the adult audience too. There's a big cast behind the voices of the animals, such as Emma Thompson, Tom Holland and Ralph Fiennes. Such recognisable voices give the movie a very familiar feeling.
Robert Downey Jr will be seen portraying the character Dr John Dolittle, a veterinarian who has the knack to speak to animals. Apart from him, Dolittle also features Antonio Banderas, Michael Sheen, Jim Broadbent and Harry Collett in key roles. Stay tuned!