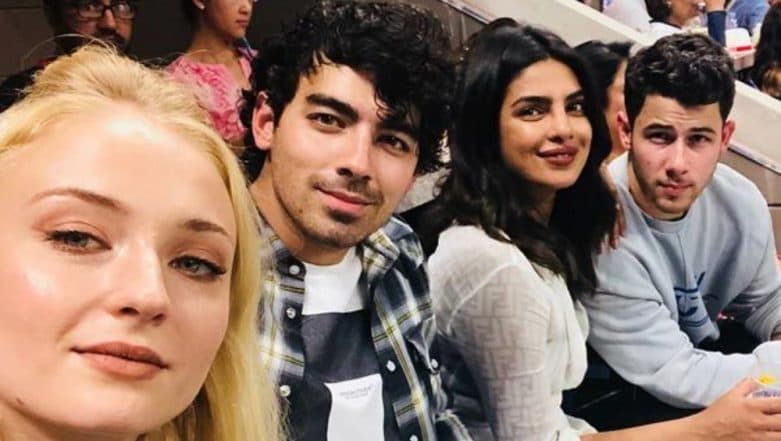 You probably know that Sophie Turner and Joe Jonas got engaged much before Priyanka Chopra and Nick Jonas. However, there are high chances that Nick and Priyanka would be tying the knot much before Joe and Sophie. Surely, you must be wondering what are Sophie's thoughts on the same. Well, turns out she is really cool with the fact that Priyanka and Nick will be walking down the aisle before her. In fact, she thinks it's incredibly sweet!
An insider close to the Dark Phoenix star revealed to HollywoodLife.com, "She thinks it's incredibly sweet and romantic that Priyanka and Nick want to do things the traditional way and get married before they start trying for a baby. Sophie and Joe both get that the clock is ticking for Priyanka and Nick and they are being incredibly supportive."
Now isn't that sweet! Sophie and Priyanka hit it off even before the engagement took place. If you remember, the duo met in Priyanka's London trip on her 36th birthday, where she got engaged to Nick. Since the two brothers got betrothed, the four of them have been spending quite a lot of time that they can find in their busy schedule.
In case you didn't know, we had earlier told you about how Priyanka and Nick's wedding would be taking place sooner than you'd think. A source had quoted to US Weekly, "The wedding is coming soon and they really want to blend wedding traditions from both of the cultures that are important to them. Priyanka is having a really good time planning the wedding because it's a mix of Indian and American styles and customs, which she knows so much about." Another report about the couple wanting to have kids right away also surfaced! "Nick and Priyanka can't wait to get married. They have amazing chemistry and can't wait to have kids," a source shared.