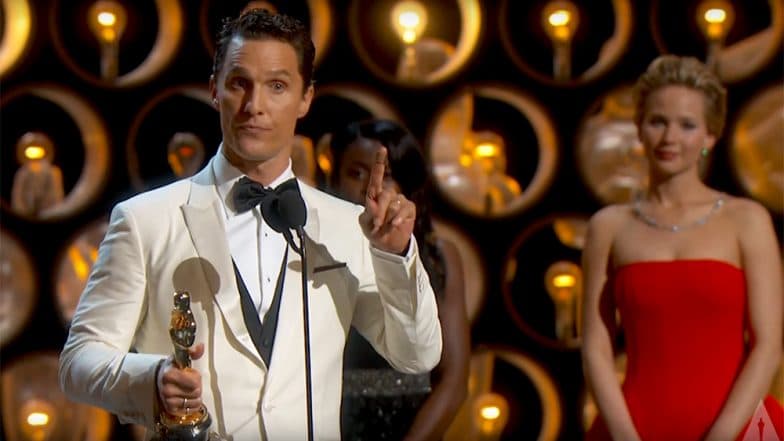 Oscars 2019 is just round the corner and apart from the get performances and films that we get to acknowledge at the Academy Awards, the other great aspect about the awards show are the acceptance speeches we get to hear. Over the years, the world has got to hear some great words of wisdom and gratitude, courtesy the academy awards.  A good speech is like a soothing balm. It not only takes our mind away from the problems of everyday living (even if temporarily), but also gives the listeners and viewers a moment to remember, memories, as they say. Oscars 2019 Live Streaming Online: Country-Wise List of Channels That Will Live Telecast 91st Academy Awards.
And talking about memories, there have been plenty of memorable speeches made at the Oscars nights just as the number of forgettable ones. Oscars 2019: Date, Venue, Nominations and Everything You Need To Know About The 91st Academy Awards.
Let us visit some of the most memorable speeches in the history of Academy Awards.
1. Cuba Gooding Jr. 
Cuba Gooding Jr. won the Oscar for Supporting Actor for the film Jerry Maguire  at the 69th Annual Academy Awards. After Mira Sorvino presented the award, Cuba Gooding Jr. came to stage, accepted the award, thanked his wife and god and accepted that he had little time to complete his speech. As if taking cue, immediately the music started playing signalling him to end his speech. What Cuba Gooding Jr. did after that will bring a smile to your face.
2. Russell Crowe 
Hilary Swank presented the Oscar for Best Actor to Russell Crowe for his performance in "Gladiator" at the 73rd Academy Awards in 2001. This heartfelt speech by Russell Crowe is considered by many to be one of the most inspiring and concise acceptance speeches ever.
3. Dustin Hoffman 
This was an amazing speech, to say the least. Dustin Hoffman won the award for Best Performance by an actor in a leading role for the film Kramer vs Kramer. And the only thing that equalled his brilliant performance was this acceptance speech that recognised the struggle actors have to go through and how there is no such thing as the best actor as every performer nominated is a worthy winner in his/her own right.
4. Forest Whitaker 
Reese Witherspoon presented the Best Actor Oscar to Forest Whitaker for his performance in "The Last King of Scotland" at the 79th Annual Academy Awards in 2007. This was a really heartfelt and inspiring speech to say the least where Forest Whitaker not only mentioned why he loves acting but also said that it's possible for everybody who believes they can.
5. Matthew McConaughey 
Jennifer Lawrence presented Matthew McConaughey with the Oscar for Best Actor for his performance in "Dallas Buyers Club" at the 86th Oscars in 2014. Matthew, in his typical talk and gesture style, thanked all the academy members. Then he went on to explain the three things on his count that he needs and it's an absolute pleasure to hear it. With his impeccable delivery and smooth baritone, Matthew McConaughey delivered one of the best all time acceptance speeches.
6. Leonardo DiCaprio
Julianne Moore presented Leonardo DiCaprio with the Oscar for Best Actor for his performance in "The Revenant" at the 88th Oscars in 2016. The actor finally won an Oscar, after having being nominated for 6 times for his performances over the years. Not many can use the Academy Awards ceremony to spread a word about climate change and global warming, but considering Leonardo DiCaprio's passion for the cause, it was no surprise that he talked about the climate and dangers that global warming poses to planet earth. One of the best speeches ever, just like his performance in "The Revenant".
7. Sir Laurence Olivier
Cary Grant presented Sir Laurence Olivier with an Honorary Oscar for the full body of his work, and unique achievements of his entire career and his lifetime of contribution to the art of film at the 51st Academy Awards in 1979. And the only phrase that can do justice to sir Laurence Olivier's speech is that it was "an English masterclass." The speech was of such high literary quality that actor Jon Voight held his head in disbelief as can be seen towards the end of video. Perhaps, the greatest speech ever at the Academy Awards.
8. Sandra Bullock
Sean Penn presented Sandra Bullock with the Best Actress Oscar for The Blind Side, featuring Michael Sheen, Forest Whitaker, Oprah Winfrey, Stanley Tucci and Peter Saarsgard, at the 82nd Academy Awards. The speech by Sandra Bullock was just the icing on the cake as the stellar list of presenters themselves delivered smooth and rich lines for the nominees.
9. Viola Davis 
Mark Rylance presented Viola Davis with the Oscar for Best Supporting Actress for her performance in "Fences" at the 89th Oscars in 2017. And she went on to give one of the best acceptance speeches. Powerful and moving are two words that describe her speech.
10. Cate Blanchett
Daniel Day-Lewis presented Cate Blanchett with the Oscar for Best Actress for her performance in " Blue Jasmine" at the 86th Oscars in 2014. "Sit down, you all are too old to be standing," said she as soon as other members started clapping. It was a generous speech, as she went on to praise all of her fellow nominees.
11. Halle Berry
Halle Berry won the Oscar for Best Actress for Monster's Ball at the 74th Academy Awards. Russell Crowe presented her the award. She was all tears when he went up the stage but every word she uttered was full of emotions and one could tell that it came straight from the heart. Heartfelt and touching, is how one would describe the brilliant speech.
12. Lupita Nyong'o
Lupita Nyong'o won the Oscar for Best Supporting Actress for her performance in "12 Years a Slave" at the 86th Oscars in 2014 and her speech ended with the lines, ""When I look down at this golden statue, may it remind me and every little child that no matter where you're from, your dreams are valid." Need we say more?
13. Frances McDormand
Frances McDormand won the Oscar for Best Actress for her performance in "Three Billboards Outside Ebbing, Missouri" at the 90th Oscars in 2018. The first Academy Awards to take place after the #MeToo movement, Frances McDormand began by saying, "I'm hyperventilating a little bit. If I fall over, pick me up, because I've got some things to say." And then she went on to make every women in the hall stand on their feet amid wild applause and great enthusiasm. One of the great moments from last year's Oscars for sure.
The Academy of Motion Picture Arts and Sciences will organise Oscars 2019 ceremony on February 24 to honour the best in the world of cinema from 2018. This will be the 91st Academy Awards. However, we are sure that there will be some great speeches made at this year's academy awards as well. Until then, enjoy these great speeches and tell us what you feel about them.