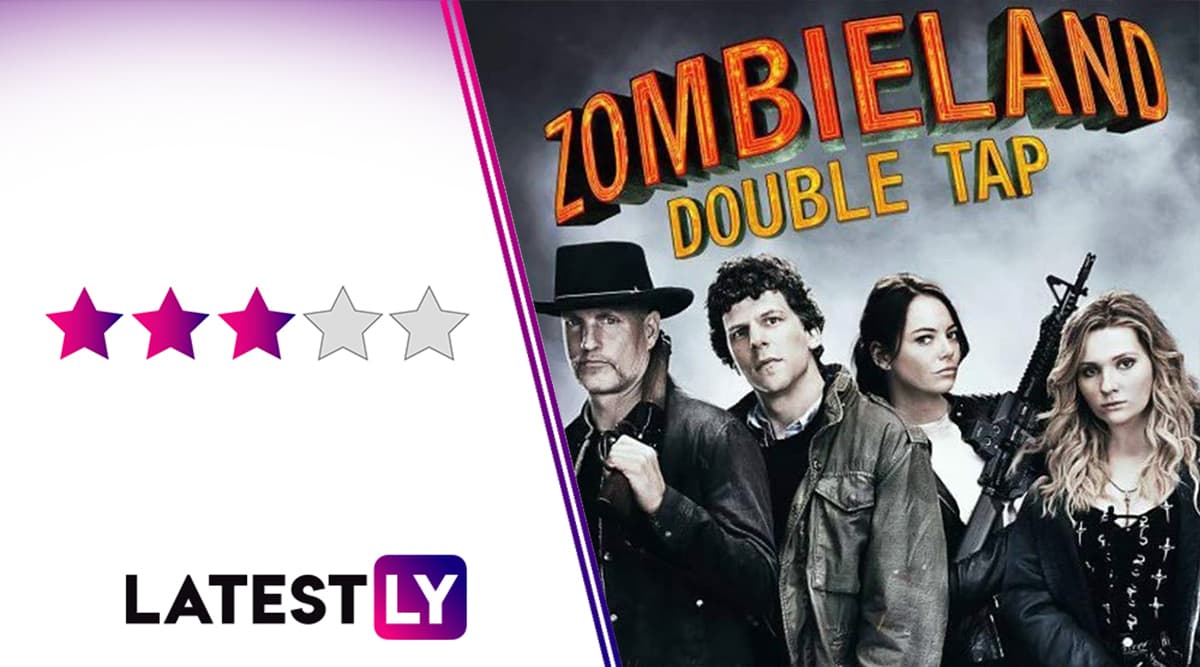 Zombieland: Double Tap movie review - Not that anybody bothered or asked for a sequel to the 2009 post-apocalyptic zombie horror comedy, director Ruben Fleischer decided that perhaps one last time wouldn't hurt. With that, he teamed up with writers Rhett Reese and Paul Wernick to pen down the script for the sequel. Fleischer also huddled back the original team of Woody Harrelson, Jesse Eisenberg, Emma Stone and Abigail Breslin to reprise their roles and continue their lives as the handful survivors of the zombie apocalypse. And yes, the sequel is finally here but how has it managed to survive in a world where already a plethora of zombie-related content have shone bright since Zombieland? We'll find out soon.
Zombieland Double Tap Trailer: Emma Stone, Woody Harrelson Take the Party to the White House in This Hilarious First Promo (Watch Video)
The story takes us back to the America that has been beaten down to arid land with barely any greens (except for the medicinal cannabis which isn't used for medical purposes, obviously) while the four survivors of the zombie apocalypse, Columbus (Jesse Eisenberg), Tallahassee (Woody Harrelson), Wichita (Emma Stone) and Little Rock (Abigail Breslin), continue their hunt for "home". Nestled comfortably in the White House, Columbus and Wichita's romance takes a rather dull turn while Tallahassee's overbearing father-like behaviour leaves Little Rock upset. Tired of the two, the girls decide to abscond. Nothing goes easy for them from here on as they eventually have to resume to their hitchhiker life by picking up cars and even some lone survivors of the zombie apocalypse.
Meanwhile, Columbus and Little Rock bring new individuals in their lives that Tallahassee and Wichita are not happy with. As they try to rescue one of the members from the madness of a cult choosing to avoid machine guns and embrace the Gandhian principle of peace to deal with zombies, there are new breeds erupting out of areas in the vicinity. Life is in danger and the only way to deal with them is violence, except for this time, they don't have their guns.
Zombieland: Double Tap trailer
When it comes to Zombieland: Double Tap, avoid carrying your brains along with yourself because just like the zombies, you don't need one to survive this movie. But, if you're stubborn enough to watch it with your brain and not let go several glitches and loopholes, then you're probably going to have a tough time. The sequel is gorier as compared to the original film so fans of gore and carnage, you'll have a very good time. Not to mention, there are disturbing and disgusting moments but you certainly won't feel like barfing if you're used to content like Walking Dead or World War Z. Director Ruben Fleischer didn't really have to come up with the sequel but now that it is here, it's not all that bad.
Emma Stone Wants 'Zombieland' Film Made Every 10 Years, Reveals Director
You won't find mindblowing plot twists and engaging writing from the writers as it is a zombie movie and humour is all that counts. Or so it seems for Rhett Reese and Paul Wernick. While entertaining as the previous one, Double Tap does lack the punch and the uniqueness that the original movie had a decade ago. However, in terms of action sequences and humour, the film definitely manages to hold the audience's attention for long. The pop culture references right from music by Lynard Skynard to hippie lifestyles, they've got several fun anecdotes. Zoe Deutch, who plays a Barbie-like bimbo in the movie is hilarious! As are many instances in the film that I won't reveal right away.
Yays
- Great comic timing
- Brilliant action sequences
- The right amount of gore
- Interesting pop culture references
- A satisfying end to the franchise
Nays
- Very predictable
- Not the best script
- The original film is much better
Final Word
Sure, Zombieland: Double Tap might not be as insanely awesome as the original movie. When Zombieland was released, the fact that it was one of a kind horror-comedy with zombies tickled fans' funny bones and even got the gore scenes on point. However, the sequel seems to falter in terms of an original script, a conflict and even some fight sequences. Nevertheless, the movie does check off a fan's list with the right amount of gore, mad fights, guns ablaze, the camaraderie of the four members and all culminating to what can be assumed, a befitting end