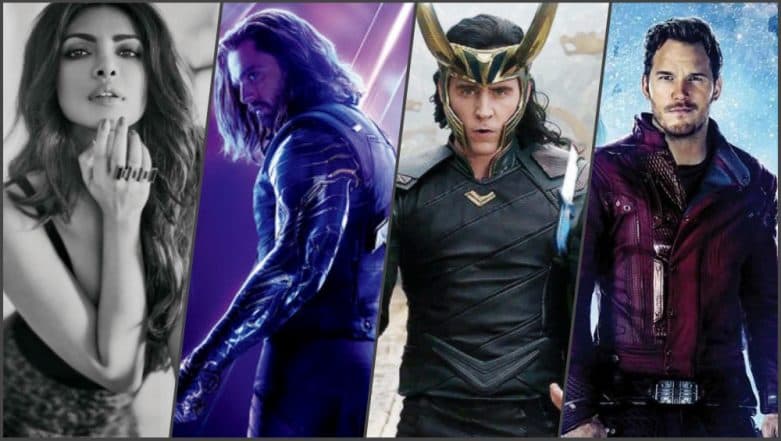 Priyanka Chopra is not doing Salman Khan's Bharat. No more speculating about the reasons, if she ever felt like talking about it, we all will know. Till then this discussion's over. Period. So, what do we do now? Can we talk about how cool PeeCee is? Priyanka shares a great connection with Marvel Cinematic Universe's Avengers team in real life! Now that she is a global icon, it is not surprising but pretty exciting for a Marvel fan. The 36-year-old has recently signed a movie with none other than Chris Pratt aka Star-Lord of Guardians of the Galaxy! Yes, yes, Priyanka will co-star in the adaptation of comic series Cowboy Ninja Viking with Pratt. Read on to know how she once shared a hot chemistry with Loki (Tom Hiddleston) and the Winter Soldier/Bucky Barnes (Sebastian Stan) off the screen. Not Nick Jonas, Is Chris Pratt The Reason Why Priyanka Chopra Walked Out of Salman Khan's Bharat?
Priyanka Chopra and Loki aka Tom Hiddleston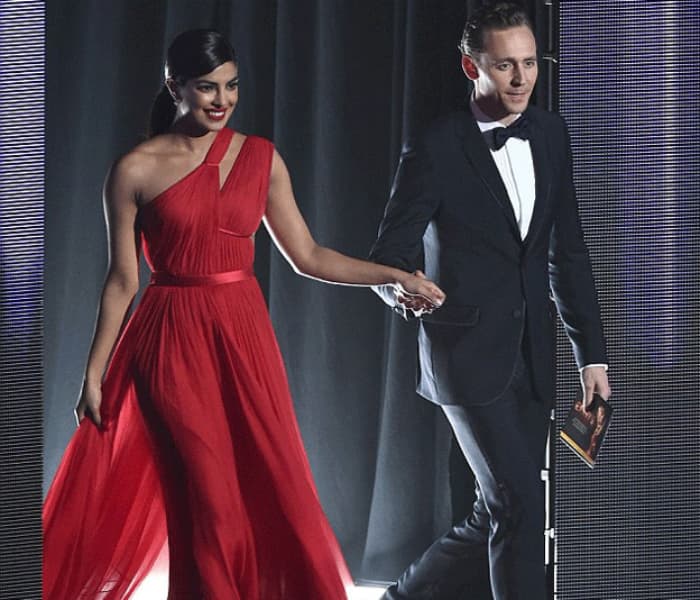 They were dating…not. But everyone believed that they did. Especially, after the way, Tom and Priyanka walked hand-in-hand to co-present an award at the Emmys 2016. The good-looking British actor who is famous for playing the role of Loki in MCU was at his chivalrous best as he helped Priyanka with her famous long, flowy red dress both on and off the stage! Hiddleston also watched her lovingly as she twirled. But it was all platonic, it seems as Priyanka denied all the romance rumours at Andy Cohen's talk show saying, "We were presenting for like 10 minutes. I met him for 15 minutes. We were behind the curtains for 10 minutes where he was adjusting my dress since it had a long train. We had to figure out to manipulate not tripping." Nevertheless, she had Loki giving her all the attention.
Priyanka Chopra and Winter Soldier aka Sebastian Stan
Priyanka had the sexiest assassin, the Winter Soldier star Sebastian accompany her on the 'Watch What Happens Live with Andy Cohen' talk show in May 2018. Stan who is one of the hottest actors in Hollywood looked quite interested in PeeCee's conversations, especially pertaining to Tom Hiddleston. Audiences watching the pair on the chat show felt there was some sexual tension in the air. However, we all know now that Priyanka was probably already seeing Nick Jonas with whom she reportedly got engaged on her 36th birthday.
Priyanka Chopra and Star-Lord aka Chris Pratt
Ignoring the fact that Star-Lord remains our most hated Marvel hero (thanks for getting half the world wiped off by Thanos), we are excited about Priyanka signing a film opposite the Guardians of the Galaxy actor. She will be seen playing the love interest of Chris Pratt in Universal's big-budget tentpole Cowboy Ninja Viking. The film is being directed by Game of Thrones fame Michelle MacLaren from a screenplay by Dan Mazeau, Ryan Engle, Craig Mazin, Paul Wernick and David Reese.
Apart from the aforementioned Marvel stars, there is a distant (like, very far) connection with a couple of more MCU actors - Scarlett Johansson aka Black Widow and Chris Hemsworth aka Thor. Both had lent voices for Kaa, the sinister snake in Disney's The Jungle Book. While Johansson featured in the international version of the film, Priyanka's voice was used for the Hindi version.
As for the Thor connection, Priyanka has not exactly worked with Chris, but she has worked with his younger brother Liam Hemsworth in Isn't It Romantic, an upcoming American romantic comedy film directed by Todd Strauss-Schulson. In fact, the two danced their hearts out on the New York City. Cute, isn't it! Coming back to Cowboy Ninja Viking, it will be Priyanka's fourth film after Baywatch, A Kid Like Jake and Isn't It Romantic.