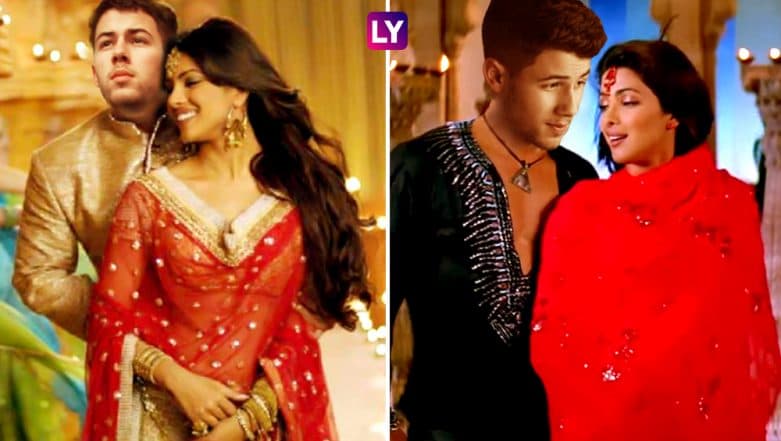 American singer Nick Jonas is in India accompanied by his parents, and we cannot help singing "Saajanji Ghar Aaye" at the much-hyped arrival. After all, this confirms the 25-year-old's engagement with Priyanka Chopra. A whirlwind romance followed by a secretive betrothal on PeeCee's 36th birthday, Nick is all ready to propose marriage to the Bollywood actress officially. Now we know there's a lavish engagement bash taking place, and we are not invited to it, but it doesn't deter us from celebrating their big day. We have got a collection of Salman Khan songs that Nick should totally sing to Priyanka Chopra during the function. If you're wondering why just limit to Salman's songs, the answer is very simple – they're the best! From "Mujhse Shaadi Karogi" to "Dulhan Hum Le Jaayenge", these tracks have been part of Indian wedding functions for years now. Priyanka Chopra and Nick Jonas Age Difference Is on Everyone's Mind Post Engagement Reports! How Old Is Sexy Indian Actress and Her Fiance?
Saajanji Ghar Aaye From Kuch Kuch Hota Hai
This song from Kuch Kuch Hota Hai is about welcoming the groom by bride's families. In this track, Salman Khan is visiting Kajol's house for the engagement ceremony, where the duo breaks into song and dance routine. "Saajanji Ghar Aaye" is one of the best tracks played during wedding ceremonies till date. We can already imagine Nick and Priyanka shaking their legs to this awesome KKHH song in Kumar Sanu, Alka Yagnik and Kavita Krishnamurthy's voices. Priyanka Chopra's Tiffany & Co Engagement Ring Gifted by Fiancé Nick Jonas Is Breaking the Internet- View Pics.
Chal Pyar Karegi From Jab Pyaar Kisise Hota Hai
Yet another song of Salman is wooing his ladylove on their engagement day. Just like handsome Bollywood actor asking Twinkle Khanna to be with him forever in this peppy track, Nick and Priyanka too could engage in some loving banter before they exchange rings. "Chal Pyar Karegi" from Jab Pyaar Kisise Hota Hai is sung by Alka Yagnik and Sonu Nigam. Salman Khan in Malta for Bharat Movie: 5 Pics of Exotic European Country Will Get Priyanka Chopra Jealous For Not a Being Part of Bhaijaan's Film!
Dulhan Hum Le Jayenge Title Track
"Kasam Se Kasam Se, Hum Aayenge, Shaadi Ka Joda, Hum Layenge, Dulhan Hum Le Jayenge (Promise to bring you the bridal trousseau and take you away after marrying)." This song strikes a chord with all Priyanka Chopra fans as Nick Jonas is indeed in the country to get hitched to his to-be-bride. This song is sung by Alka Yagnik, Kumar Sanu and Sunita Rao.
Chunari Chunari From Biwi No 1
Speaking of Salman Khan songs on celebrations, you got to include "Chunari Chunari" from Biwi No 1. The foot-tapping track had Salman and Sushmita Sen dance their way into our hearts, and it would fun for everyone at PC-Nick's engagement bash to see the lovebirds recreate the same magic.
Tenu Leke From Salaam-e-Ishq: A Tribute to Love
When Priyanka and Nick's secret engagement in London broke out, the first thing that came to everyone's mind back in India was this song "Tenu Leke" from Salaam-e-Ishq: A Tribute to Love. It is quite special as the romantic song features Priyanka Chopra herself. Her character Kamini is pursued and finally proposed by Salman Khan, something Nick has done in real life.
Mujhse Shaadi Karogi Title Track
Finally, the song we were dying to put in this list - "Mujhse Shaadi Karogi (Will You Marry Me?)" title track; because, let's be honest, can there be a more befitting song for the occasion? Sung by Udit Narayan, Sonu Nigam, Sunidhi Chauhan, this is one song we just want Priyanka and Nick to dance on their engagement bash.
These are absolute favourite tracks we want the "Bom Bidi Bom" singer to profess his love for Priyanka. Though we know it can be a little awkward for the actress to play Salman Khan songs in her ceremony after Bharat movie fiasco, but why should professional decisions affect personal life. So, get ready for Band, Baaja, Baarat moment in Bollywood. Nick Jonas and His Family Arrive in Mumbai to Meet Priyanka Chopra's Folks; Is There An Engagement Party On? - View Pics.
(Disclaimer: The article is not written to hurt the public image of any individual mentioned in the article. We at LatestLY do not intend to hurt or insult any person's sentiment involved. We hope the following piece of information amuses you as much as it did to us.)