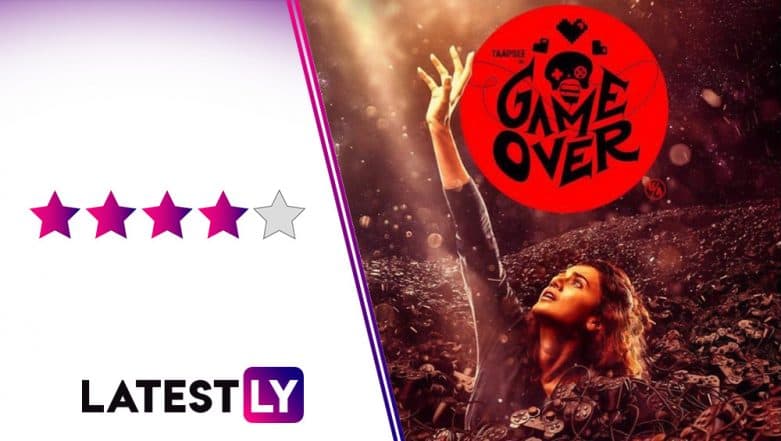 Before you go to watch Game Over, and you definitely must, there is something that you need to keep in mind. Remove any kind of perceptions you have about the film, that you got through the slyly deceptive trailers of the film. For Game Over, starring a consistently wonderful Taapsee Pannu in the lead, is stubborn enough to not follow your train of thoughts when it comes to your expectations about the plot. Forget the plot, you may find it difficult to slot it as a horror-thriller, even with its enough heart-thumping moments. For the young Ashwin Saravanan has served a film unlike any other you have seen in mainstream cinema, especially in Bollywood. Game over Trailer: Taapsee Pannu Starrer Home Invasion Thriller Will Keep You at the Edge of Your Seat.
An unseen assailant is stalking single, young girls living in the outskirts of Gurugram and brutally killing them, all the while videotaping the act. We then get to meet Swapna (Taapsee Pannu), a videogame developer, who works from her house, with only her loyal maid Kalamma (Vinodhini Vaidyanathan) for company.
As the New Year's Eve is around the corner, Swapna suffers from a sudden bout of PTSD in an unexpected moment. Her psychiatrist (Anish Kuruvilla) calls it an Anniversary Effect, when the victims get traumatised by a harrowing incident that happened with them an year ago. In the case of Swapna, it happened during the New Year's Eve last year and the scars are back now.
So what happened to Swapna? Why is the tattoo that she got on her left hand a year back throbbing painfully now? Will the killer think of her as the next target? And will her gaming skills help her and Kalamma out, if that ever happens?
There are so many interesting questions that Game Over prods us to ask. Answering everything here would quite vexing of me, but I can assure you one thing - not every question will be answered. Not pointing out which, for obvious spoiler reasons, but if you think about it, those unanswered questions hardly matter, thanks to how the writers (Ashwin and Kaavya Ramkumar) have spun the narrative around.
Game Over has the feel of a home invasion thriller, and yet there is a supernatural angle to it. But then, it jumps to the protagonist dealing with the scars of her past and what's more, these portions are equally affecting, if not more. It is difficult to see Swapna losing her mind trying to hide from the bad memories, and her suicidal tendencies are as scary as a murderer stalking her. The first half is dedicated to just establishing Swapna as a character, her fears and what eggs her on. In the process, we get a fully-rounded protagonist that we really want to root for when her real test of courage begins - a rarity in a horror movie these days.
Even Kalamma, the secondary protagonist, makes herself captivating to us, the way she mollycoddles over Swapna. We might not know much about her background - save for a little scene where she dotes over Swapna's kiddo pictures on a friedge that tell us Kalamma has been with her for long. And yet, we are as scared for Kalamma's life as much as Swapna's.
Why, Game Over even gives the first victim shown in the movie a really touching background and personality, another rarity in a horror movie. Seriously, Ashwin, how many horror movie rules can you break in just one film of yours?
That said, Ashwin has also managed to show himself off as a fan of the genre, with enough influences of cult horror films used in the film. The opening sequence of Game Over will make both Scream and Psycho proud. The protagonist's predicament in the second half will remind you of Hush and a certain another fun horror movie that came out in 2017 (naming which is a huge spoiler). Also, you can catch references from the cult Peeping Tom, as well as The Strangers and so on. And for a subversive horror movie, Game Over is packed with enough moments of nerve-racking tension and grisliness. Keep Calm! Taapsee Pannu's Injured Hand on the Sets of Game Over Was Not for Real (View Pic).
What's even smarter is how Ashwin has managed to integrate apt video game references in the movie, not just as Easter Eggs (Red Dead Redemption 2 poster shown during an intrusion scene), or nods to the future twists (Swapna's obsession with Pac-Man, the tattoo surprise). But also in the way, some of the scenes have been filmed, like when it switches to a First Person Mode. And of course, making Swapna the game nerd here instead of having a nerd friend help her around.
Some of the sections in the audience may be underwhelmed by the abrupt ending of the film. To be honest, even I was. But then I realised that it went well with Swapna's arc, even if it didn't exactly gel with what I expected.
Watch the trailer of Game Over here:
Ron Ethan Yohann's BG score is another plus point for the movie; his pulsating score enhances the thrill moments without scarring our ears. A Vasanth's camerawork manages to create the claustrophobic feeling needed with utmost conviction.
The Performances
Taapse Pannu is turning out to be one of the finest actresses of this generation. With Game Over, she turns out yet another highly believable act that surprises you with every scene. She ticks off all the boxes, that too in BOLD, when it comes to portraying shades of her character with conviction - a geeky gamer, the scared girl and ultimately, a determined fighter.
As her compadre Kalamma, Vinodini Vaidyanathan is very endearing and pulls out a couple of surprise tricks during the third act. Their camaraderie is what gives Game Over its resonant emotional vein. Maala Parvathi is excellent in the scene with Taapsee near the interval. VJ Ramya and Anish Kuruvilla also deliver competent performances.
Yay!
- The Unusual Style of Narrative
- The Thrills and The Twists
- A Well-Formed Protagonist
- The Performances of Taapsee and Vinodini
- Ashwin's Direction
- The BG Score
Nay!
- Some Lag in the Middle
- The Abrupt Conclusion May Feel Underwhelming
Final Thoughts
Indian Cinema doesn't do justice to the horror genre that well. So movies like last year's Tumbbad and now, Game Over, come as a refreshing change, that not just plays with the narrative and style of film-making but also delivers a thrilling experience in the end. Game Over wins you over with its effective storytelling techniques, fine character development, and enough thrills and chills. Go for it!