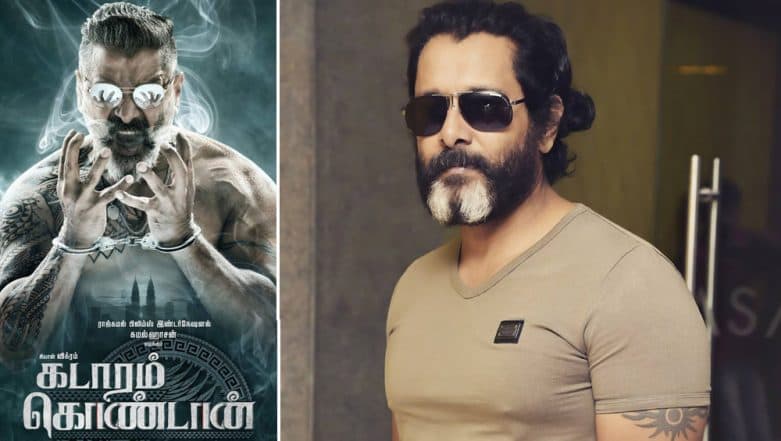 From the posters to the teaser and then the trailer, Chiyaan Vikram in Kadaram Kondan left us all impressed. Th shootouts, chase sequence and much more stylish action scenes in the trailer, was enough to make one understand that it is going to be an action entertainer. Produced under the banner of Raaj Kamal Films International, Kadaram Kondan released on July 19, and critics have labelled it is a well-made action entertainer. Kadaram Kondan Trailer: Chiyaan Vikram's Rugged Look and Stellar Action are the Highlight (Watch Video).
Not just critics, but even fans who have managed to catch first day first show of Kadaram Kondan have given it a thumbs up. Directed by Thoongavanam fame Rajesh M Selva, this Tamil movie has not left anyone disappointed. For those unaware, Kadaram Kondan is a remake of the French film Point Blank that released in 2010. Let's take a look at what fans and critics have said about this flick. Kadaram Kondan Teaser: Chiyaan Vikram Looks Damn Stylish in This Kamal Haasan Production – Watch Video.
Times of India – 3/5 stars
The action scenes make Kadaram Kondan a visceral experience, even though Rajesh Selva's filmmaking falls short on flair. As long as we get a chase or a shootout, the film feels thrilling enough. It is only in the quieter moments, like the initial scenes that set up the story, that get us restless. Thankfully, Ghibran's energetic wall-to-wall score lends the film momentum. And Vikram ensures that we don't leave disappointed.
Sify Movies – 3.5/5 stars
Overall, Kadaram Kondan is a stylish action thriller which justifies the genre mainly because of the top-notch technicalities, earnest performances of the young pair (Abi and Akshara) and of course, our macho man Vikram. Go watch it, you won't be disappointed.
Tweet #1
#KadaramKondan Done with the 2nd half.. Without thinking just book the tickets buddies. Perfect entertainer from chiyan this time.. Pre climax twist will stun you like hell.. WINNER.. 4/5

— Dumeel Dravidian (@Shan05804680) July 18, 2019
Tweet #2
#KadaramKondan - The Complete & a Well made action movie. 👌🏻Thoroughly engaging...

For the Stunts, Vikram's looks & The Music. WORTH it !! @GhibranOfficial's owns this movie completely🎶🎶🔥🔥

— Balaji Duraisamy (@balajidtweets) July 18, 2019
Tweet #3
Stunts - Just exceptional. Easily the career best performance for @aksharahaasan1 so far. And Mr. Chiyaan - Truly hollywood standards. Second half fightellam mass panni irukaapdi. Classy is the word ! #KadaramKondan

— Prashanth Rangaswamy (@itisprashanth) July 19, 2019
Tweet #4
Watched #kadaramkondan in abu dhabi al wahda cinema. Pucca mass. Fast paced mass entertainer with emotional in akshara part.

— thamsudeen (@thamsu) July 18, 2019
Tweet #5
After Dheivathirumagal first time I'm seeing there is no mixed or negative reviews so far for Vikram film 😍 Nee jeichuta thalaivaaaaaaa #KadaramKondanFromToday

— rajesh (@Rajuviki) July 19, 2019
Kadaram Kondan also features Akshara Haasan, Abi Hassan and Lena in key roles. The Telugu-dubbed version, which also released today, is titled as Mr. KK. The film's music has been composed by Ghibran.