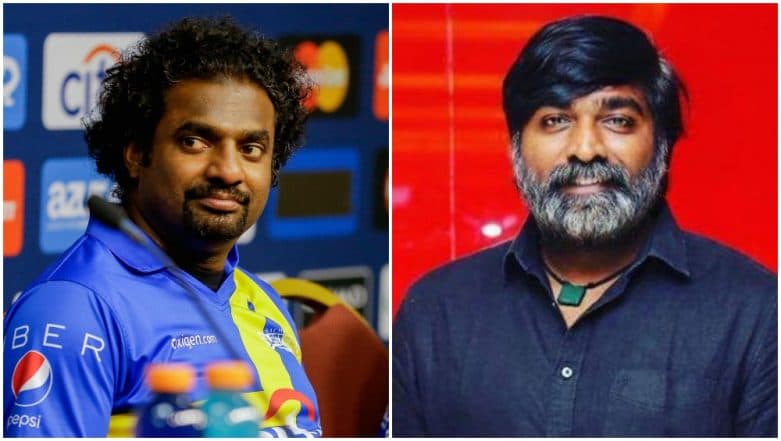 So one more cricketer gets a biopic in Indian cinema, though there is a change in nationalities here. After having biopics on MS Dhoni, Mohammed Azharuddin and upcoming ones on Kapil Dev and Mithali Raj, we are having one made in Tamil Cinema. This time, the muse is one of the leading wicket-takers of all time, Sri Lankan legend Muttiah Muralitharan. As per confirmed reports, 96 and Super Deluxe star Vijay Sethupathi is playing the lead in the film. Muttiah Muralitharan Biopic: Vijay Sethupathi to Play Former Sri Lankan Cricketer?
The yet-untitled film is directed by Sripathy Rangasamy and is scheduled to release in 2020, with the shooting beginning in a couple of months. Muralitharan also gave a press statement to the media where he affirms his approval of casting the talented Sethupathi for playing his part. He had said, "I'm honoured that an accomplished actor like Vijay Sethupathi will be playing me in the film."
The movie will be produced by DAR Motion Pictures along with another leading south Indian production house.
Now a bio-pic on #SriLankan cricketer #MuttiahMuralitharan with @VijaySethuOffl playing the legendary spinner. Producers #DarMotionPictures & director #SripathyRangasamy. #Muralitharan :"I'm honoured that an accomplished actor like Vijay Sethupathi will be playing me in the film"

— Sreedhar Pillai (@sri50) July 24, 2019
Muttiah Muralitharan was considered as one of the best spinners of all time and was also rated the greatest Test match bowler ever by Wisden Cricketers' Almanack in 2002. Part of the National team since 1993, Muralitharan had taken about 800 wickets in Test Matches and 534 tickets in One Day Internationals. Decline in Talent, Lack of Passion Saddens Me: Muralitharan on Sri Lankan Cricket.
His unorthodox bowling action often got him accusations of illegal delivery leading to several inquiries to check if it's true. And it also led to an infamous incident when former Sri Lankan captain Arjuna Ranatunga led his team out of a match against England after the umpire no-balled a Muralitharan delivery suspecting his delivery. Hoping that these incidents do make it to the biopic to make it more interesting.