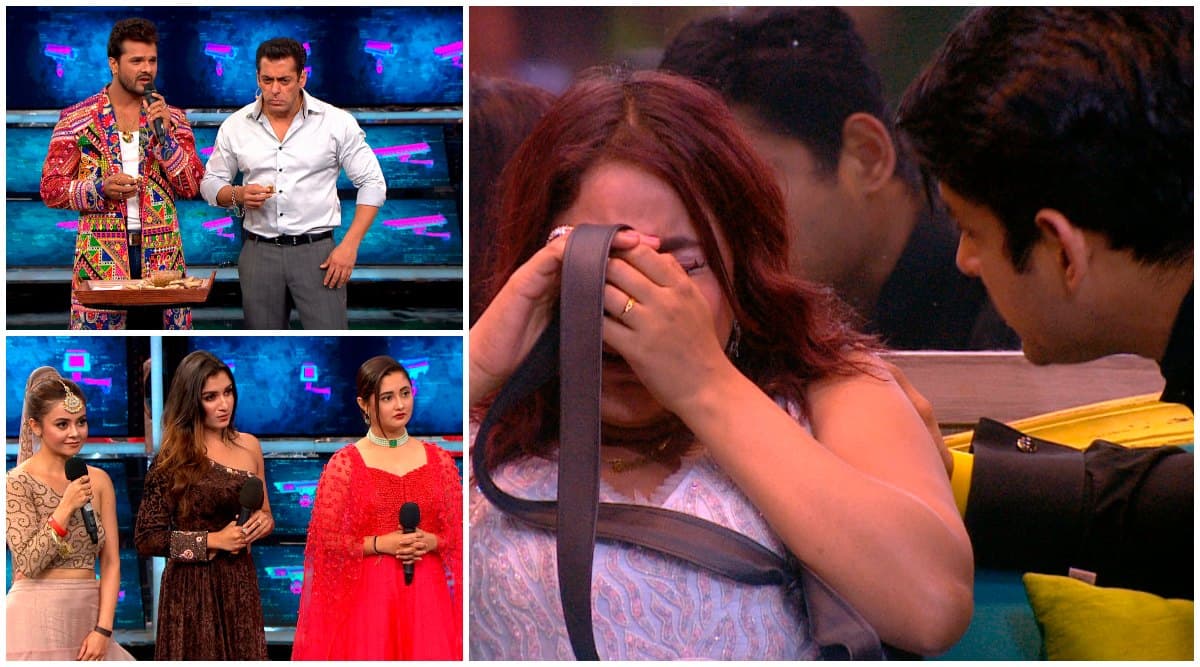 the mid-season finale has led to a lot of 'twisted' turn of events in the history of the show. The entire nation is still recovering from the shock of the eviction of some of the strongest contenders of the house. While this is just the beginning, many shockers are in store for the audience and housemates alike. Saturday saw a few new contestants being introduced inside the house. Sunday's episode begins with Salman Khan dancing on Ishq Di Galli Vich No Entry. Soon after, he invites Rashami Desai, Shefali Bagga and Devoleena Bhattacharjee on the stage and questions them on their strategy and how it backfired on them. The Quality Check Expert, Gauahar Khan also interrogates them on their game plan. Bigg Boss 13: Did Salman Khan Hint That Colors Channel Spread Rumours of Rashami Desai and Arhaan Khan's Marriage Inside The House?
Devoleena explains the dynamics between Mahira and Paras but later agrees that they did give up too soon. Later, Salman invites Arhaan Khan back on stage which takes Rashami by surprise. When asked, Rashami tells Salman and Gauahar that she doesn't want to give any advice to Arhaan and wants him to go inside with a clear mind. She also claims that his personality can overpower others. Arhaan exits the stage bidding goodbye to Rashami and others and later enters the house.
Meanwhile, the Bigg Boss house is still rife with the conversations about the recent elimination. Arti confesses to Shehnaaz that her family members must be very proud of her for being chosen over Rashami and Devoleena. Asim and Sidharth Shukla start their planning and discuss that they will stand by each other and not get influenced by anyone. Later Shefali Jariwala enters the house and ex-flames, Jariwala and Shukla exchange greetings and ask each other about their health. Bigg Boss 13: Shefali Jariwala's Entry Will Have a 'Kanta Laga' Effect on Sidharth Shukla! Here's Why
On the other hand, Bhojpuri superstar Khesari Lal Yadav comes on the stage with Rani Chatterjee performing to the 'Theek Hai' song. A special panel of Bala cast again comes in to interview Khesari. A lie detector test begins wherein many interrogative questions are darted at him and Khesari has to answer them by swearing on the famous Bhojpuri dish 'Litti Choka'. While Khesari answers them honestly, host Salman Khan relishes the delicacy. Next in line is Tehseen Poonawala who gets into a small argument with Gauahar Khan on stage and she warns him to be careful with his words and not to complicate things. Exclusive Bigg Boss 13 Wildcard Contestant Tehseen Poonawalla: Mai Jahan Khada Rahunga Group Wahi Se Shuru Hoga
All is well in Shehnaaz's paradise until Himanshi Khurana's entry that creates major unrest inside the house. The otherwise bubbly and cheerful Shehnaaz has an emotional breakdown and declares that she doesn't want to stay inside the house. Sidharth, Paras and Arti try to console her but she demands to be called inside the confession room as she considers Himanshi's entry inside the house as an unfair game.
Later Bigg Boss asks them to gather in the living area and announce the name of the housemate they are not happy to see inside the house.  After some accusations and reasoning, one name gets a majority but Bigg Boss adds a twist and declares that a person is now the first captain of the house. Bigg Boss also introduces a luxury room for the captain which adds to the distress levels of the contents. As the game changes its course, who will fight back and who will give up?