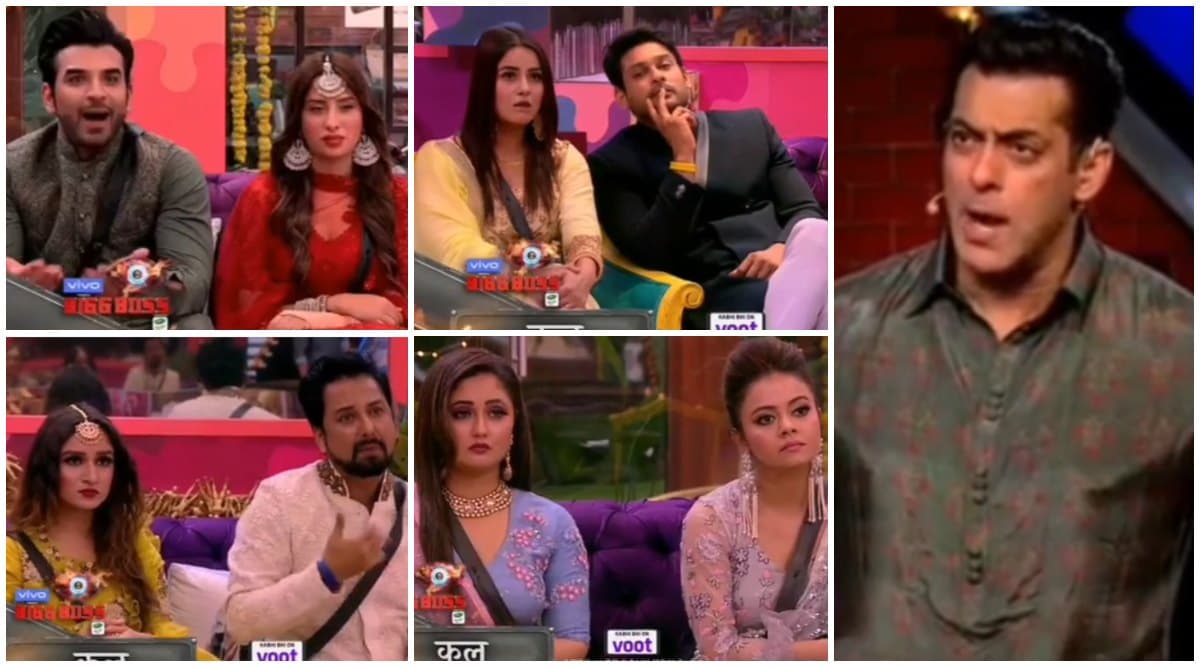 A few days back, we had written in one of our articles - 'Hell Hath No Fury Like An Angry Salman Khan'. And this is exactly what the Bigg Boss 13 houseguests were treated to, in the upcoming Weekend Ka Vaar episode. Given how the contestants brought the house (and some of its property) down in the last week, not to mention the ensuing fight over tea and Asim throwing a few things, this was kinda expected. In a preview released, Salman Khan was seen slamming contestants and asking them straight forward questions, to which they did not have any answers. Bigg Boss 13: A Video of Paras Chhabra Apparently Trying to Save His Wig Goes Viral After Asim Riaz Claims He Is Bald!
For those who did not watch the last episode of the show, the housemates got into a heated argument over tea that Devoleena had hidden (with good intention to save it for the remaining days) after which Paras and Asim got into a huge brawl. Despite Bigg Boss demanding that the duo maintain peace, they were at loggerheads, until Paras, Asim and Sidharth were called into the confession room. After a heated day, the housemates seemed to calm down, only to face a raging storm in the name of Salman Khan on the weekend. Bigg Boss 13 Day 27 Preview: Khesari Lal Yadav To Be The Third Wild Card, Arti Singh Targets Shefali Bagga Over Her Character Assassination Habit (Watch Video).
And here is a run-down of everything that happened in the episode with Salman Khan:
Salman Khan apparently started the show by telling the contestants that they have made everyone so proud with their conduct in the house this time, so much so that the TRP of this week's Bigg Boss is so high that the audience is demanding that the channel air the show for 5-6 hours every day.
Addressing everybody's angry young men and women avatar, Salman Khan told the housemates that if they so wanted to beat each otehr up, then he would have had the akhada open for them. "Jab tak marta nai koi, ek dusre ko maarte raho agar itni hi dushmani hai toh," said the host.
Salman Khan started the episode with some gyaan for Sidharth Shukla. He told the actor that while he was complaining about not having a fan in the BB Jail, he revealed to Sidharth that when he (Salman Khan) was behind bars, there was no washroom, no fans, no mattress and even no ventilation at all and asked him to adjust. Bigg Boss 13 Day 24 Highlights: Bigg Boss Serves The Contestants Right, Nominates The Entire House As Punishment For Getting Violent During The Task
Addressing Sidharth Shukla's aggressiveness, Salman gave him an earful and said that it was Sidharth's temper that got in the way and that he needed to control it. He also warned him to remember his limits before getting into a girl's face and talking to her during fights.
Salman Khan also questioned Paras Chhabra and Mahira Sharma over their comments of him being partial towards Shehnaaz. He then moved over to Siddhartha Dey and goes as far as to call him Ch****e, when the writer tries to explain and justify himself.  Bigg Boss 13 Day 24 Preview: Siddhartha Dey Passes Derogatory Comments On Shehnaaz Gill, Says 'Mardon Ke Paas Jaati Hai Baar Baar' and Pushes Her
Salman Khan questioned Rashami Desai about her being a woman and yet not taking a stand for Shehnaaz Gill when Siddhartha Dey passed derogatory comments on her. To this, Rashami apparently replied that she did not hear Siddhartha Dey's statements.
Salman also questioned Shehnaaz and told her that he was unaware about her abusing nature to which Shehnaaz told the host that they (the opposite team) provoked her into abusing. She also went on to tell Salman that she knew a lot more abuses than these but she did not want to use them To this, Salman told her, "Aap pe gaali shobha nagi deta, aap tph Punjab ki Katrina ho." Biased much??
Shefali Bagga, Asim Riaz, Shehnaaz Gill and Siddhartha Dey were subjected to a 'Thappad Task' where questions would be asked and the housemates had to agree or disagree with the four contestants' answers. Well, interesting stuff,... eh??!