Actor Karan Patel is the latest victim of the circus that is social media, or shall we say the actor is in a Liam Neeson from the Taken mood. A usually calm and composed 'I dont give a damn' Karan Patel exploded on social media this evening and after we found out the reason, we did feel that Karan's outburst was completely justified. While the actor and his family are kinda used to the negativity on social media that comes with being a celebrity, Karan exploded on an online troll this time around. Karan Patel Opens Up On Rumours of Yeh Hai Mohabbatein Going Off Air! Here's What the Hunk Has To Say!
This evening, Karan and his wife Ankita Bhargava both tagged a social media account and not only berated the owner for sending/ posting extremely hurtful personal content, Karan also went ahead and threatened the troll. Bigg Boss 13 EXCLUSIVE: Karan Patel Approached for the Show? Here's What The Actor Has To Say!
See Karan and Ankita's posts below:
 

 

 

 

View this post on Instagram

 

 

 
The duo also posted screenshots on their respective Instagram stories.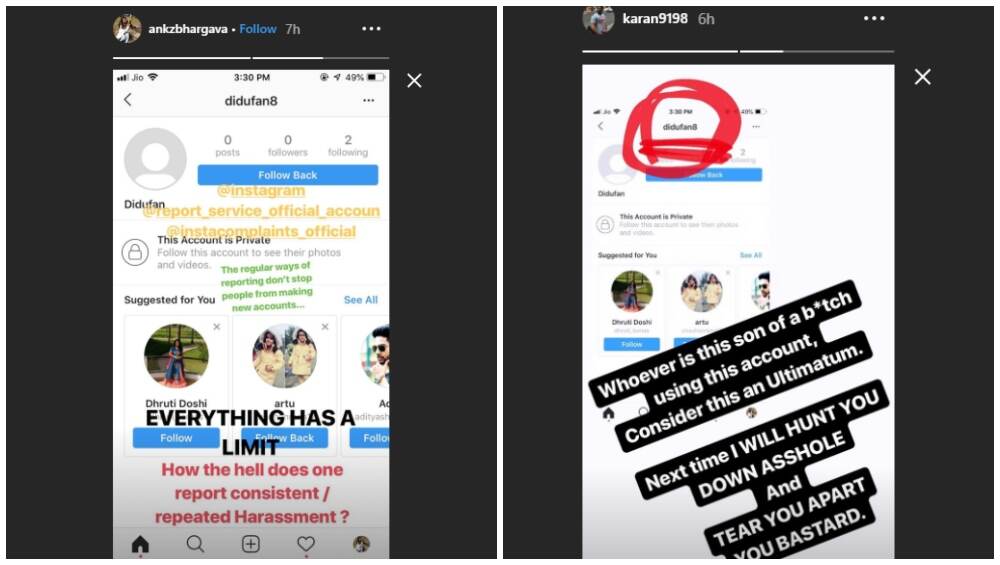 While we have already stated that Karan being no stranger to social media hate has never really gone to this extent of being annoyed, we're sure that the troll must have crossed a limit to have gotten such an extreme reaction from the Yeh Hai Mohabbatein star.  Khatron Ke Khiladi 10: Krystle D'Souza and Karan Patel Approached for Rohit Shetty's Show?
Karan told an online portal that he had already approached the cyber crime cell to identify the face behind the account and that he wants to pursue the case to its closure so that the culprit gets caught. He also told the portal, "If you're reading this, then consider this as a warning. Such things won't be tolerated. I will tear apart the person personally." Well, we hope justice is soon served to Karan and his family.