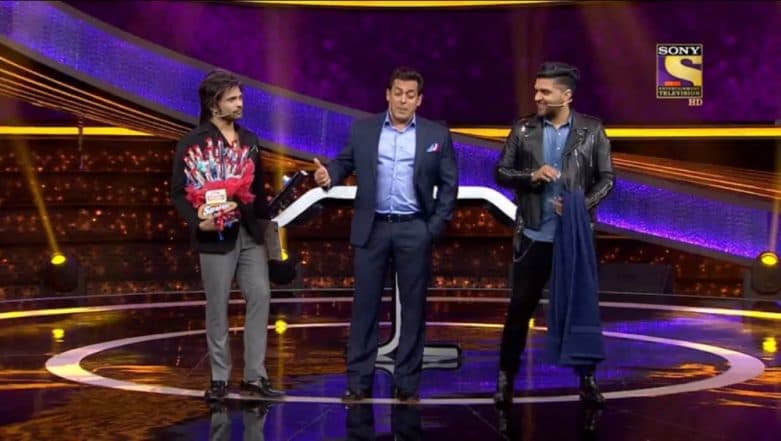 Today's episode of Dus Ka Dum 3 starts with Guru Randhawa setting the musical stage with Banja tu meri rani, and Himesh Reshammiya takes it forwards with ashique banaya.
This duet ends with Jumme ki raat and Salman's entry in style. Salman says that Himesh and Guru are similar and he pulls Himesh's leg by stating some facts.
Then comes Guru's turn to be under Salman's attack when he asks Guru how breakups he has had. The first question calls for an elaborate discussion on toilets.
Himesh talks about donating the winning amount to Being Human. Now Salman makes the two musicians play the kangaroo ball game. Guru speaks about how he has a major crush on Kareena Kapoor Khan.
Salman cannot control his laughter when the question is about underwear with holes. Salman directs a bomb in Himesh's direction by asking about stealing songs of other singers.
Salman has one more game for the two "dumb shararathe", where Salman acts the songs and the two have to guess. Salman pranks Himesh as the poor man keeps acting out a song while Salman hints the audience and Guru not to guess.
Ishaan Nangia walks in as he displays his prowess with imitating all the musical instruments together. He teaches Salman some of his talents. Himesh decides to get a song with Ishaan as the musical instruments.
Himesh and Guru sing songs as Ishaan plays along and it is indeed a treat for every music lover. Himesh walks into the super sawaal as he wins the knock out round.
Guru's new song is released, and it does look like another chartbuster is on its way. Salman speaks about how all of them five siblings are equally loved by their parents. Salman speaks about the different charities Being Human is donating in.
Himesh wins an amount of 6 lakhs for his charity. Guru expresses his desire to dance with Salman on his famous towel step. Salman obliges, and they have loads of fun jumping around.