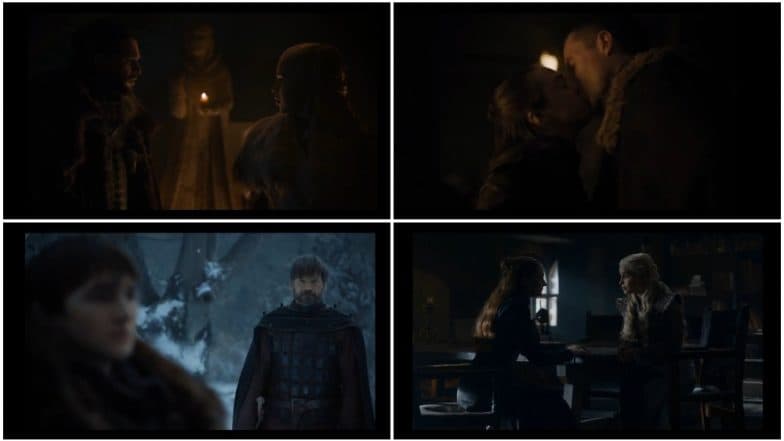 So it's happened again! As goes the tradition every time HBO has a new season of Game of Thrones ready, a leak happens and some of the episodes get available on torrents. Spoilers are then available on the internet before ardent fans could really get to watch the show officially on channels or Hotstar. Last season, thanks to some miscreant in HotStar itself, three episodes or so of Game of Thrones got leaked online. Why, season eight of Game of Thrones itself, the premiere episode was accidentally screened on DirecTV Now hours before the official time. Game of Thrones Season 8: A Fight with the Night King's Army and Jamie Lannister Cursing his Stars, Here's What You Can Expect from Episode 2.
The second episode of Game of Thrones 8 was supposed to air in India first at 6.30 am on HotStar. Now it has been leaked online somehow, and it has made its way to the torrents websites. Of course, many have already watched the episode and have been posting spoilers about it on Twitter and Facebook, especially about a certain intimate scene about a major character.
Check out the screenshots of the episode leaked on sites like Torrentz.com and 1337x.to.


Here are some screenshots of the LEAKED episode posted by a Twitter user:
nice leak. good night. #GameofThrones pic.twitter.com/bnste8GhHV

— lowkey loki (@midwritecrisis) April 21, 2019
Others, who want to watch the show on its official airing, are trying their best to avoid social media. Of course, this also leads to GoT fans how HBO can't contain the leaks happening from their own end. Game of Thrones Season 8: Will Cersei Lannister Meet Melisandre? Actress Carice Van Houten Lets Out a Huge Spoiler.
Check out some of the Twitter Reactions below:
#GameofThrones HBO cannot stop leaks, orey it's final season, make them stop. Spoilers are coming. Okay, visiting social media after the episode airs.

— Aravind Supertramp (@getexploded) April 21, 2019
#GameofThrones leak

How'd the leak happen anyway? pic.twitter.com/f1nTJLwqH9

— Aap kon (@MainAurKon) April 21, 2019
@HBO thanks for not freaking out over us getting this #GameofThrones Spoiler leak because I needed to see Arya get what she needed🍆 today, early. Thx

— Crystal G-H (@MizFahrenheit) April 21, 2019
#GameOfThrones I can't believe this shit is happening again, they worked so hard on this show only for some asshole to leak it just hours before. pic.twitter.com/NbDu8cc7BV

— KRATI 🏳️‍🌈 (@krati_joshi) April 21, 2019
It's the final season people, have some respect & STOP with the leaks 😩#GameofThrones

— E M I ▲ (@Emi_Saeed) April 21, 2019
Dear HBO, perhaps it is time for you to hire some Z kind of security to catch the leakers in your company. Considering that Game of Thrones is the most downloaded show when it comes to piracy all over the world, the makers should have put in some restrictions at least to plug in pre-aired episode leaks.