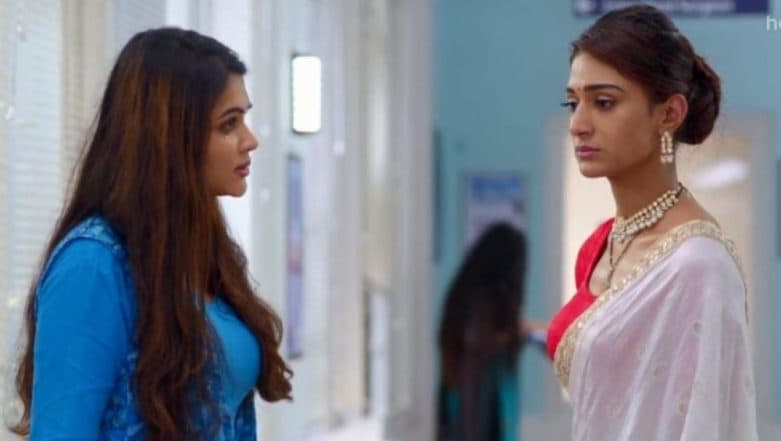 In yesterday's episode of Kasautii Zindagii Kay 2, we saw Shivani spotting something odd at the accident scene. Later, Prerna signs some papers in the hospital as Anurag's wife, while his condition drastically deteriorates. Tonight's episode starts with the doctor telling Prerna (Erica Fernandes) to leave Anurag's (Parth Samthaan) hand so that they can take him inside the operation theatre. Prerna sees Shivani and goes to meet her and the latter tells her that she was the person who brought Anurag here. Shivani gets enraged and blames Prerna for Anurag's state and asks her why doesn't she leave Anurag and let him live in peace.  Kasautii Zindagii Kay 2 September 9, 2019 Written Update Full Episode: Anurag's Condition Deteriorates, Prerna Signs As His Wife On Hospital Papers!
Back home, Anupam is tensed as Anurag is not picking his call, Nivedita tells him that Anurag has changed so much because of Prerna and gets emotional. Anupam tells her that Anurag has changed and gone too far in life but not because of Prerna. At the hospital, Prerna and Shivani get into a fight when Prerna tells her sister that she can say whatever she wants about her but not about Anurag, which leaves Shivani confused about why Prerna is concerned for Anurag when she left him to marry Bajaj. Shivani reveals to Prerna that it was Mr Bajaj's  (Karan Singh Grover) car which dashed Anurag and left him to die on the road. Prerna does not believe her and defends him saying she knows him well and tells Shivani that he will not do any such thing. And when Prerna accuses Shivani of lying because she does not like Bajaj, the former reveals that she herself saw the accident, leaving Prerna disturbed.
On the other hand, Bajaj goes back to the accident spot to enquire what happened to Anurag and comes to know that some girl took him to the hospital. Back at the hospital, Shivani narrates to Prerna all that happened back in the market but Prerna refuses to believe her. Shivani tells her that Bajaj purposely did this and tells Prerna that if anything happened to Anurag she will be the reason and no one else. Later, Prerna cries when she sees Anurag lying in the hospital bed. Kasautii Zindagii Kay 2 New Promo: Anurag 'Struck' Out of Prerna's Life By Mr Bajaj!
Meanwhile, at the Basu household, Bajaj comes homes and thinks that he should have not left Anurag on the street and thinks he should tell Prerna what happened and searches for her. Bajaj comes and asks Sharda where Prerna is, Sharda tells that they were tensed when they saw Prerna running out of the house and thought something has happened to him but if he is fine then for whom did she run out of the house like that? Sharda tells him that Prerna was taking Anurag's name while going out of the room, Bajaj says he will have to talk with Prerna and leaves.  Tanvi and Sharda are happy as their plan worked. Later, Prerna comes home and confronts Bajaj and asks him if he was responsible for Anurag's accident and Bajaj confirms that he did it.
In the next episode, Prerna asks Bajaj why did he leave Anurag on the road and not take him to the hospital. Later, Shivani informs Mohini about Anurag's accident.