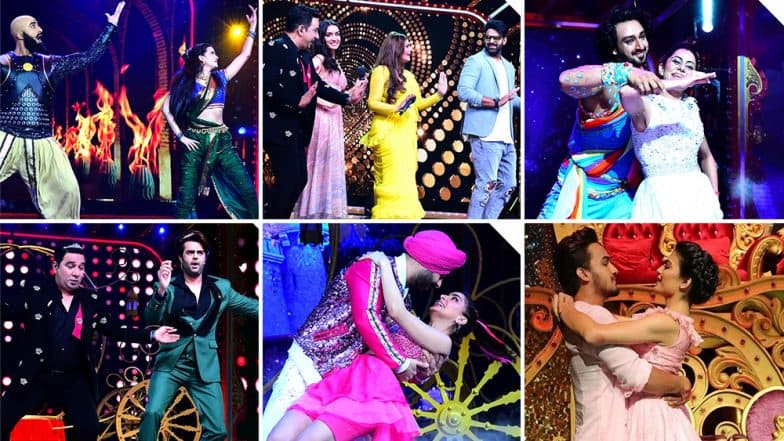 This weekend, Nach Baliye 9 was all about fulfilling their individual fantasies. In the fantasy episode of Nach Baliye 9, not only were some fantastic fantasy-based performances presented, but the episode was also graced by Saaho stars Prabhas and Shraddha, who provided a major dose of entertainment. From Aly Goni and Natasa Stankovic's funny take on 'Why Kattappa Killed Baahubali?' to Tulsi Kumar gracing the show yet again to promote her song Enni Soni, to Prabhas fulfilling his long-standing dream of dancing with Raveena, tonight's episode of Nach Baliye saw some fantasies being fulfilled. Nach Baliye 9: Madhurima Tuli SLAPS Vishal Aditya Singh On the Sets Dance Reality Show! (Watched Leaked Videos) 
The episode starts with Anita Hassanandani and Natasa Stankovic introducing this weekend's theme 'The Fantasy Special' by giving the audience a sizzling performance to the song Lovely.
The first performance of tonight's episode was Aly Goni and Natasa Stankovic's hilarious take on why Kattappa killed Bahubali, which won them a standing ovation. The duo's energetic performance won them a Hi5.
This is why Katappa killed Bahubali! 😂

Jodi No. 8 - #AlyNa @AlyGoni @Natasa_Official#NachBaliye9 pic.twitter.com/wM7KePdjq0

— StarPlus (@StarPlus) August 24, 2019
Performance:
Maniesh and Walusha welcomed Saaho cast Prabhas and Shraddha Kapoor:
Prabhas:
Are we hearing you scream for this superstar? 🔥#Prabhas#NachBaliye9 pic.twitter.com/Pxt2zl6xFY

— StarPlus (@StarPlus) August 24, 2019
Shraddha:
Looking beautiful as ever, Shraddha Kapoor gets us down with some more #NachFever as she walks onto the Nach manch!

Are you tuned in?@ShraddhaKapoor#NachBaliye9 pic.twitter.com/QFTsauclgm

— StarPlus (@StarPlus) August 24, 2019
And there obviously was some dancing also:
Hit 💯 if you think Prabhas and Shraddha nailed the 3-steps test! @TandonRaveena @khan_ahmedasas @ShraddhaKapoor #Prabhas#NachBaliye9 pic.twitter.com/jhqBYTj8v5

— StarPlus (@StarPlus) August 24, 2019
The second performance of the day was Faisal and Muskaan's and the duo did not disappoint with their performance. Their act, an LED backed performance where both Faisal and Muskaan completed their entire act by dancing lying down on the screen, won them a Hi5 yet again.
We've never ever seen such an innovative and groundbreaking act! ⚡

Hats off to you Jodi No.11 - #FaisAan!@faisalkofficial @muskaankatariaa#NachBaliye9 pic.twitter.com/QH1YDihQGC

— StarPlus (@StarPlus) August 24, 2019
Performance:
Shraddha Arya and Alam Makkar's fantasy Punjabi Cindrella story saw the duo perform a Bhangra, Bollywood and Freestyle performance.
Comment ❤️ if you loved this act, or 🕺 if you're tapping your feet!

Jodi No. 1 - #ShAlam @AryaSmilesa #AlamMakkar#NachBaliye9 pic.twitter.com/i8Fz8tVPAN

— StarPlus (@StarPlus) August 24, 2019
Performance:
Adding yet another dose of laughter were Maniesh and Ahmed who wore crowns and danced to entertain the viewers.
Judge Ahmed and Maniesh's dance has everyone in splits! 😂

Who did it better?#NachBaliye9, Tonight at 8pm only on StarPlus and Hotstar :-https://t.co/i06fXI5Kf8@khan_ahmedasas @ManishPaul03 @TandonRaveena @Iamwaluscha @ShraddhaKapoor #Prabhas pic.twitter.com/9dTkhln7S1

— StarPlus (@StarPlus) August 24, 2019
Sourabh Raaj Jain and Ridhima Jain raised the bar of their performance to another level (literally) with and not only did they get another standing ovation but also their first Hi5, straight from Prabhas' hands.
Performance:
And Shraddha too got the opportunity to run her own contest to find her Baliye, for which Aly Goni, Vishal Aditya Singh, Anuj Sachdeva and very eagerly contested.
Well, all in all, tonight's episode was a fun-filled one with lots of dance performances and many fantasies getting fulfilled. The precap of tonight's episode also promised the regular weekend dose of Vishal-Madhurima drama with the latter's mother coming on-stage and questioning Vishal... and also the next elimination. Stay Tuned!