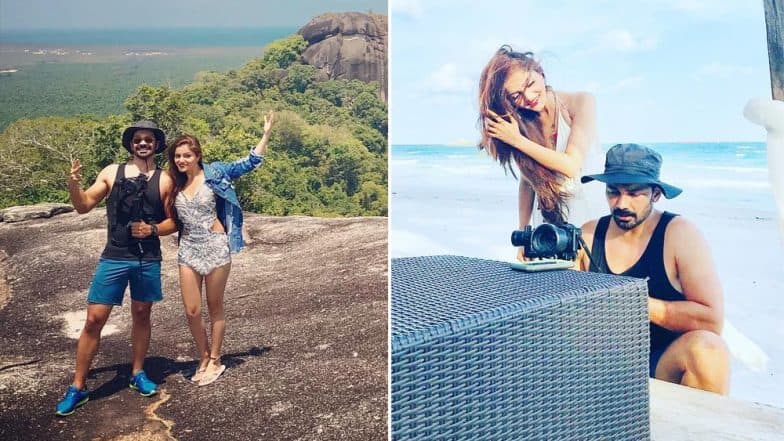 Newlyweds Abhinav Shukla and Rubina Dilaik never have dull moments to spare, for either the two of them are too tied up in work or take off on vacations, treks and indulge in photoshoots. The duo, who tied the knot last year in a private wedding amidst the hills with close family and friends in attendance, keep having their own adventures from time to time. However, they decided to spice things up with their latest Indonesian vacation and do something different. Rubina Dilaik and Abhinav Shukla Look Picture Perfect at Their Wedding Reception – View Pics.
Rubina and Abhinav who have been holidaying in Indonesia for the past few days, made the most of their 'Me Time' and the beautiful locales and made a cute music video for themselves. Rubina Dilaik and Abhinav Shukla's Pre-Wedding Ceremony Pictures and Videos are Delightful!
We spoke to Abhinav who reveals, "Rubina conceptualized the song as well as writes and sang it while I managed the shooting, edition and production. There was no crew, there was no vanity van or a large team, just the two of us!  We were climbing rocks and mountains while shooting and managing it between the two of us."
Speaking about the experience Rubina further elaborated, "While many like to travel and others love music, we love both and decided to combine our passions, to create that symbolizes 'us'. I did my own makeup, hair and styling, while Abhinav handled all the camera equipment in a backpack." Rubina Dilaik and Abhinav Shukla are Now Married; See Pics from the Wedding Ceremony.
The duo's first song is all about love and has been shot on a secluded island in Indonesia which was just opened to the public a few years ago. And after all those adorable work out posts with each other and some of their really picture perfect wedding posts, we eagerly await the pair to release their music video.