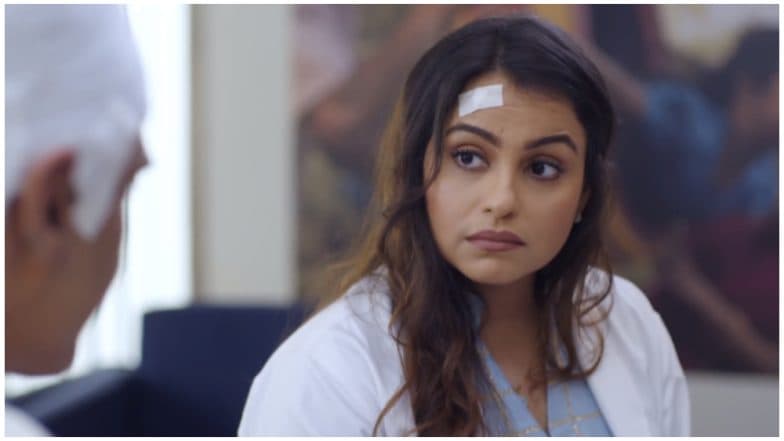 In yesterday's episode of Sanjivani, we saw Vardhan throws Sid and a gravely injured Sania out of the hospital. Later, Sid and Ishaani rush to the operation theatre, unaware of a surprise awaiting them. Tonight's episode starts with Dr Sid (Namit Khanna) shocked as if Dr Gupta came just now than who is the Doctor who is with them. Rishab unmasks himself and smiles and says now let me see how will this surgery start. Sid tells him to leave the O.T. or else he will again punch him, Rishab leaves but takes a photo to show it to Vardhan. Sanjivani 2 August 21, 2019 Written Update Full Episode: Dr Ishaani and Dr Sid Decide to Treat the Suicide Bomber's Child.
On the other side, Vardhan is upset as Dr.Shashank (Mohnish Behl) is not dead and what all he planned will not happen. Vardhan sees that all the media and crowd are shouting outside the hospital as they got to know that Sania is being treated in Sanjivani. Vardhan gets furious and goes to see where is the operation being done, he tells Rishab to find out who leaked the photo to the media. Dr. Juhi (Gurdeep Kohli) stops Vardhan from entering the O.T. as the treatment is going on and she will not allow anyone to go in unless the treatment is done. Vardhan confronts Juhi and gets into a heated argument with her. Just then Vardhan gets a call from the police who tells him to come out and calm down the media, he tells Juhi to come and handle the situation with him. Sanjivani 2 August 22, 2019 Written Update Full Episode: Dr Vardhan Throws Sid and Sania Out of the Hospital.
Meanwhile when Dr. Juhi comes out, one of the men throws a stone on her, she gets hurt. Dr. Juhi tells the crowd that they are treating Sania. Juhi tells that it is their duty to save a patient and tells on what bases they are telling that she is responsible for the bomb blast without any proofs. Vardhan cuts her voice and says that he took this decision to save the child's life. On the other side in the O.T. the operation is a success and the doctors save Sania. Later, Ishaani (Surbhi Chandna) reminisces about her childhood and gets disturbed but is happy as she saved Sania. Sid comes and wipes her tears and says she looks good when she smiles. Ishaani thanks Sid for what he did for Sania.
Next day morning, Juhi brings breakfast for Dr Shashank and tells him what all happened the previous day. Juhi says she has accepted the post of chief of surgery as Vardhan wants to change Sanjivani. Shashank says that he is fighting for that as responsible doctors are thrown out and that today one of the best doctors is going to leave us. Juhi says she will not let Sid leave the hospital but Shashank says she cannot do anything. Juhi says she will tell Ishaani to take her complaint back.
On the other side, all are making Ishaani understand that she should take her complaint back against Sid. Vardhan comes and tells that she should not break any rules and do justice and follow the right path. Vardhan says Sid as to know that he cannot do whatever he wants and tells her to decide wisely.
In the precap, Sania asks Ishaani to help Sid and bring him back to Sanjivani.