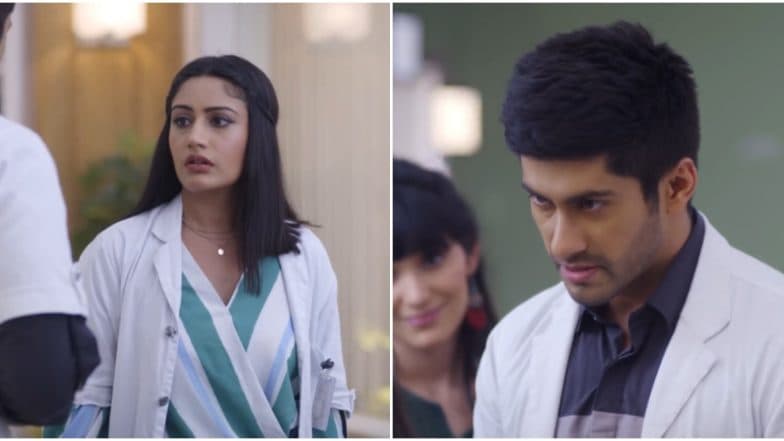 In yesterday's episode of Sanjivani 2, we saw Sid and Ishaani are surprised by Vardhan and Dr Rishab's odd move regarding a wedding within Sanjivani. Later, Sid and Ishaani accidentally exchange coffee mugs. Tonight's episode starts with Juhi (Gurmeet Kohli) asks Shashank (Mohnish Behl) did he really loved her and she wants to hear the truth from him. Shashank says the meaning of love is different for different people, he says that time she was one of his best students and that they shared the smallest of thinks like a real friend. Shashank says he used to believe her more than himself and tells that the relationship cannot be named, it is just respect for her and nothing else.
On the other side, Ishaani (Surbhi Chandna) and all the junior doctors decorate the hospital for the wedding of Jessica and Jignesh. Meanwhile, in the O.T. Anjali is doing one surgery, she reminisces what Vardhan told her and she gets distracted and shouts her junior doctors to listen to her orders, Vardhan sees her situation and says he likes this side of Anjali. Sanjivani 2 October 7, 2019 Written Update Full Episode: Jessica Hurts Jignesh, While Ishaani Fantasises About Revealing Her True Feelings to Sid.
Back in the marriage venue, Ishaani is dozing while doing flower decoration, Sid (Namit Khanna) sees her and comes and makes her sleep in the sofa, he smiles seeing her sleep like a baby. Meanwhile, Ishaani gets up and sees Sid so close to her. Ishaani says they have to work more as time is less. Sid says they both will do all the work and assure her not to worry. Later, Ishaani tells Sid that he is a nice guy and she was wrong in judging him. Sid asks her has she fallen in love with him, Ishaani gets confused as what to say and tries to leave. Sid asks her again does she loves him, Ishaani thinks should she tell him about his feelings or not and stammers while talking. Ishaani tells Sid that she does not love him and goes.
Later, in the ward Anjali attends her patient, just then Vardhan comes and asks apology for his behaviour. Anjali tells he should say what he wants clearly, he gifts her one saree. Anjali berates him as he should not cross his lines and behave with her. Vardhan says why is this line there between them and says he really is ashamed for his behaviour and tells her that he is leaving the saree there and if she wears it in the function then he will think she has forgiven her and leaves from there.
Meanwhile, Ishaani tells Sid that he is not her type guy, Sid asks what does she means by his type and holds her hand and says girls are mad behind him and wants to become friends with him. Sid says if she does not love then ok, Ishaani asks Sid does he wants her to love him.
In the precap, Ishaani and Sid get into romantic talk with each other.