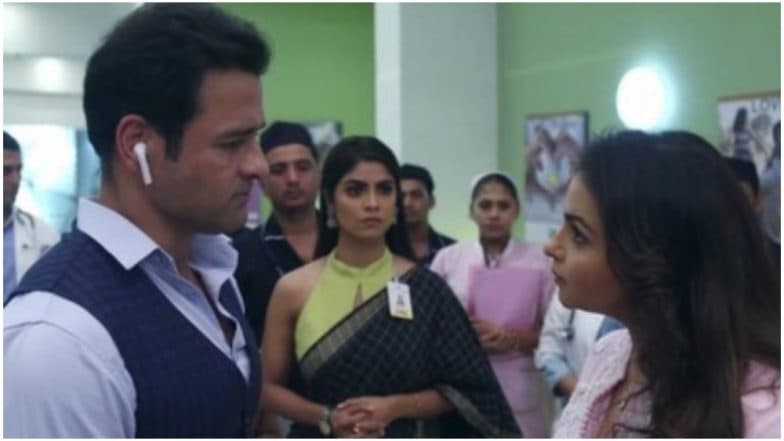 In yesterday's episode of Sanjivani 2, we saw Ishaani takes a bold step to save a patients life while sid handles the case of Neel's father. Later, she takes an unexpected decision regarding Sanjivani. Tonight's episode starts with Ishaani (Surbhi Chandna) going out of Sanjivani and gets emotional. On the other side, Sid (Namit Khanna) and his team bring Neel's father in the ward, Neel is very upset and cries. Sanjivani 2 September 11, 2019, Written Update Full Episode: Rishab Insults and Fires Ishani From His Team, Sid Asks Her To Join Back!
Meanwhile, Juhi (Gurdeep Kohli) tells Shashank (Mohnish Behl) that this case is a little complicated. Aman comes inside and informs everyone that Ishaani left Sanjivani. They argue that the person who put the posters will repent one day and see Sid. Shashank comes near Sid and tells him that he does not know who did all this but if Ishaani left the hospital for him then he should bring her back in Sanjivani, Sid leaves.
Later, Ishaani remanence what all happened with her and gets emotional and cries, suddenly Sid comes there and tells her to come back to Sanjivani. Ishaani chides at him as to how dare he came in her house after all he did with her. Sid requests that she should dance with him so that her mood is changed. Sid plays the music and tells her to dance with him, they dance with each other without touching each other. Later, Sid tells that he did not do anything and he will punish the person who made her cry and requests her to come back to Sanjivani.
On the other side, Vardhan feels proud to introduce luxury ward and the chief of surgery Dr Anjali. They thank the chief guest for coming for the inauguration. Anjali sees Juhi and turns away. Vardaan gives a tour of the luxury ward. Meanwhile, Sid tells Ishaani does she remembers what she told Sania, that she shouldn't get punished for her parents' deeds, then why different rules for her. Sid says he has worked with many doctors, but there are few talented doctors like her.
Back in Sanjivani, Anjali says luxury ward will make Sanjivani get into a new league. A reporter asks where is Shashank. Vardaan says he wanted to be here. the reporter interrupts and asks doesn't he agree with luxury ward idea. Vardaan says this was his idea, but made by everyone's consent. On the other side, Sid tells Ishaani to come at least for Neil's sake as his dad is critical and says he wants her help.
Meanwhile, Neil talks to his dad. Sid says we have a rule, doctors can't get involved in family member's case, Neil is the best doctor, Neil's dad says he knows Neil won't break his trust. Neil agrees. Asha, Aman, and Rahil all are in the library. They argue about Sid. Sid comes and asks didn't Ishaani come. Asha says Neil's dad has a fever and getting a bleeding cough. Rahil says he thinks its cancer. Sid says no, it is not cancer. Ishaani comes and says maybe it's some kind of blood infection. Sid smiles. Asha and Aman hug her. They all think of Neil's dad's illness. Later, they ask  Neil if his father is on medication, Neil says he is diabetics and used to take pills, Sid and Ishaani go to Neel's house to check which medication he was taking.
In the precap, Sid and Ishaani get inside the house. The doors get locked. They have a pillow fight.