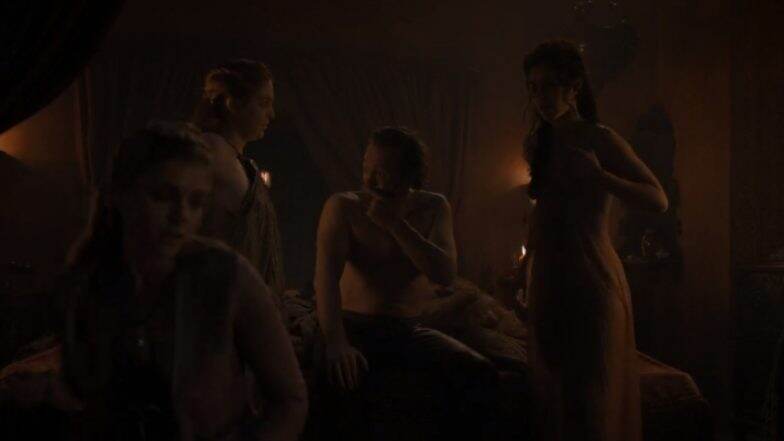 The first episode of the much-anticipated final season of Game of Thrones has been unleashed upon the fans. The episode is the one full of reunions. Jon Snow finally gets to meet Bran Stark and Arya Stark, his half-siblings, after years of staying apart or even as much having seen their face. He even meets Sam. There are major action set pieces like Jon riding a dragon. Yea, that happened. But c'mon, we all know why many of us started watching the show for the nudes. Game of Thrones season 8 episode 1 wastes no time in bringing out the big guns. Game of Thrones Recap: 7 HOTTEST NSFW Sex Scenes in the Show That Pushed the Envelope When It Came to the Risque Content – Watch Videos.
Halfway into the episode, we get two sex scenes. And of them is extra graphic. Bron is having the time of his life for some reason while his friends are out there preparing for a war. In the graphic sex scene, Bron enters a brothel with not one, not two, but three women at once. The women are scantily dressed and one of them starts to have sex with Bron. Game of Thrones 8 Episode 1 Review: From Cheery Reunions to Bronn's Foursome to the Night King's Evil Message, a Recap of What Happened in the Premiere Episode of Final Season.
The scene lasts for a few seconds as this foursome is interrupted by Qyburn. He informs Bron that his services are required elsewhere. Bron apologises to the women and excuses himself.  One of the ladies flirts with Qyburn.
Here are some reactions to the first nude scene of the season:
Bronn will never fuck and enjoy these hoes, will he?? 😂😂😂😂

Unluckiest motherfucker ever. Can't have a foursome in peace#GameofThrones

— #ForTheThrone (@Jpaul254) April 15, 2019
Bron watchin everyone have sex. pic.twitter.com/LBdVAIH3vp

— Alex 🏁🏁🏁 (@Dubs408) April 15, 2019
This scene with Bron and sex workers not centring the man they're fucking is epic. They totally treat it as a job. #GameOfThrones #ThronesYall

— Bad + Bitchy Podcast (@badandbitchy) April 15, 2019
Reason #735 to watch #GameofThrones The Nudes 🤓 pic.twitter.com/mHiEmW0jof

— jimmyj (@jimmyj73623073) April 15, 2019
BTW, in an interview, Jerome Flynn, has said his character Bronn might not make it to the end GoT alive. "Bronn's a determined type. He's either going to get his castle, or he's going to die getting it. I can't deny there's a part of me that wanted to make the end. But I was so happy... I mean, I didn't expect to make 3 seasons, let alone 8, so... yeah."
Well, as for the other sex scene, we barely get to see it. Cersei and Euron Greyjoy have sex off camera. We only get to see Euron getting dressed near the bed.