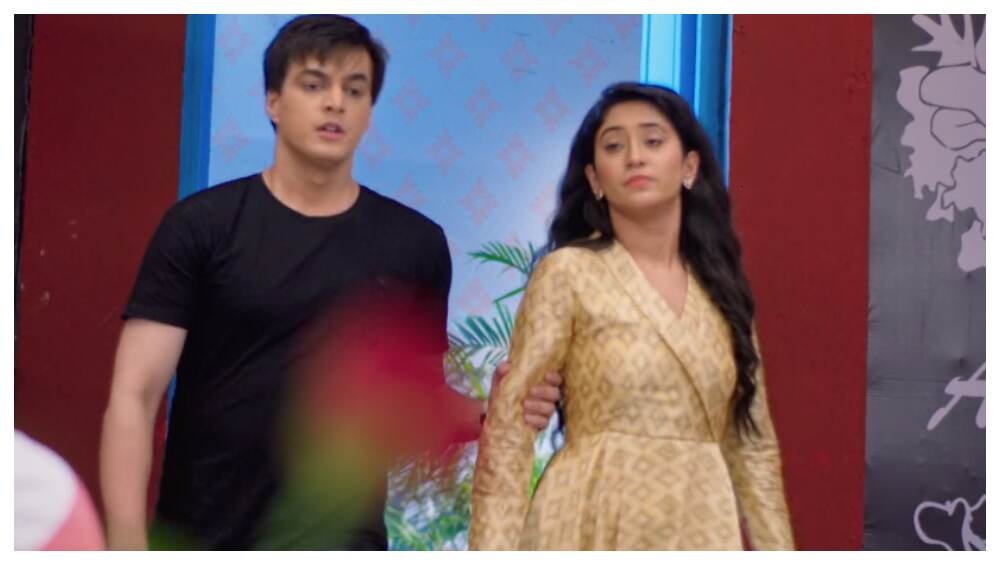 In yesterday's episode of Yeh Rishta Kya Kehlata Hai Kartik and Naira get engaged. Akshat gets bail and is released from the jail. Kartik and Naira get romantic with each other. In tonight's episode, we see Kartik (Mohsin Khan) and Naira (Shivangi Joshi) spend quality time which each other. Vansh and Kairav come and ask what are they doing. Kairav gets angry as to why are they playing alone and not with them. Kairav and Vansh tell Kartik and Naira that they will get punishment. Yeh Rishta Kya Kehlata Hai December 12, 2019 Written Update Full Episode: Kartik and Naira Get Engaged, Akshat Gets a Bail.
 Suhasini tells Manish to donate some money to the poor so that all the problems will go from their life. Kairav takes Naira and Kartik to eat ice-cream. Naira makes fun of Kartik while they have ice-cream. Just then Pallavi calls Kartik to informs him that Akshat is out on bail.  Pallavi tells Akshat had threatened Vedika and vowed to take revenge from her. Kartik and Naira go to meet Vedika.
Suhasini gets tensed when she comes to know about Akshat's bail. Manish calls the security system for the safety of their family. Suhasini worries for her family's safety. Vedika is shocked to see Kartik and Naira. Vedika tells sorry as they had to come leaving their engagement function. Vedika tells she is not afraid now and can take care of herself. Kartik tells them they want to help her as a friend. Naira tells Vedika that till Akshat is out they will not allow her to stay alone.
In the Goenka house, Kartik and Naira bring Vedika home. They make Suhasini and all understand that they should allow her to stay here with them till  Akshat is out. Suhasini gets disturbed as she is unable to accept Kartik's decision. Suhasini says will Kartik and Naira celebrate their marriage function freely. Yeh Rishta Kya Kehlata Hai December 11, 2019 Written Update Full Episode: Kartik and Naira's Engagement Gets Delayed Because of Vedika.
Vedika tells Kartik and Naira that she can stay with Pallavi. But Kartik says they cannot take chances and request her to stay with them. Naira makes Vedika understand that she should accept their offer and stay with her in the Singhania house as it is a safe place. Vedika agrees and comes inside the house. Kairav and Vansh are happy to see Vedika. Suhasini prays to God that no problem should come in Kartik and Naira's marriage. Meanwhile, Kartik tells Naira to take care of her and leaves. Kartik tells Naira that he cannot stay even a day without her and gets romantic. Naira says she loves him and kisses him. Vedika sees them and gets emotional.
The next day, Kairav gets ready to go to school. Naksh comes and tells Naira that he made her favourite dish. Kairav gets jealous as Naksh makes everything for Naira and nothing for him. Just then Vedika comes to have breakfast. Kartik gets up and dreams that Naira is with him serving him morning tea. In the precap, Swarna comes to give Naira her wedding clothes. Suhasini gets furious on Vedika after the wedding clothes catch fire.