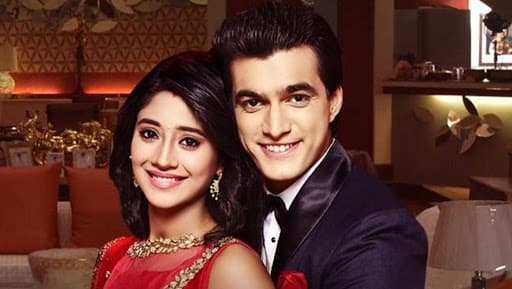 Today's episode of Yeh Rishta Kya Kehlata Hai starts with Naira (Shivangi Joshi) telling Kartik (Mohsin Khan) that talk like this should not be told on a phone but should be said personally. Kartik asks what type of talk, Naira tells Kartik that she loves him. Listening to this Kartik becomes happy and smiles (Yaha waha hai tu mujmey track is played in the background) Naira and gives a rose to Kartik and a greeting card. Naira tells that there is a strange connection with him and that his place is something different in her life and that she cannot stop dreaming about him all the time and says hope he also loves her and makes heart shape from her hand and shows it to Kartik (Hamdam mere maan bhi jawu kehna mere pyaar kha track is played in the background).
Meanwhile, Devyani and Kaveri ask about Mishti and Kuhu how are they, Devyani ask to show some photographs of them as they have not seen them from so long, Rajshree shows them their pictures and tell that they live as they are twin sisters and love each other very much. Devyani says that she will be always thankful for Rajshree as she has given Misti the house and the love which she would not have got from them.
There Naira asks Kartik is he angry with her and says that why is he not talking to her and turns back, Kartik dances with joy as he is very happy to hear this. Naira says that whatever she said she said it from her heart, Kartik thinks that whatever happens, it is for good and that Naira once again loved the same person who loves her so much and thinks no one can separate Naira and Kartik.
There Naksh asks Rajshree what is going on Mishti and Kuhu's life. Varsha says the things which should be going in today's college-going kid's life. Kirti says that she follows them on Facebook and that both are very talented. Devyani is telling Rajshree that the way she wants to meet Naira in the same way she also wants to meet Mishti. Naksh tells Rajshree that she should meet Naira now.
There Naira thinks Kartik is angry and closes her eyes, as Kartik comes near Naira says that she came here as Naksh has told that when anyone loves somebody they should tell it and not hide from the person that is the reason she came here to tell Kartik about her feelings. Kartik thinks as how he met her as Siddharth and thinks that he should also not hide anything from her and tell her the truth.
There everyone come in Naira's room and not finding her become tensed and start searching for her in the house. Naksh calls Naira, but she is scared to pick up the phone, Kartik tells her that she must have not told her brother also as she came here also hiding and that everyone will be tensed. Naira says that Naksh will be tensed and angry with her. Naira asks for the reply but Kartik tells her to go now as all must be waiting for her. Kartik brings Naira down from the ladder and tells her to go fast and tells he will tell her later about his feeling for her.
Again Naksh calls, Kartik tells her to hurry as he did not want to answer what Naira had asked him. While going Naira thinks what she should tell Naksh and what excuse she will say and thinks Kartik did not say yes or no to her question. There Naksh is tensed as where is she gone. Manish asks Kartik what is going on and ask him to tell the truth, there Naksh is scolding Naira as where she went without informing anyone, Naira says that she had gone out and that she loves… In the precap, Misti and Kuhu come to meet Devyani.