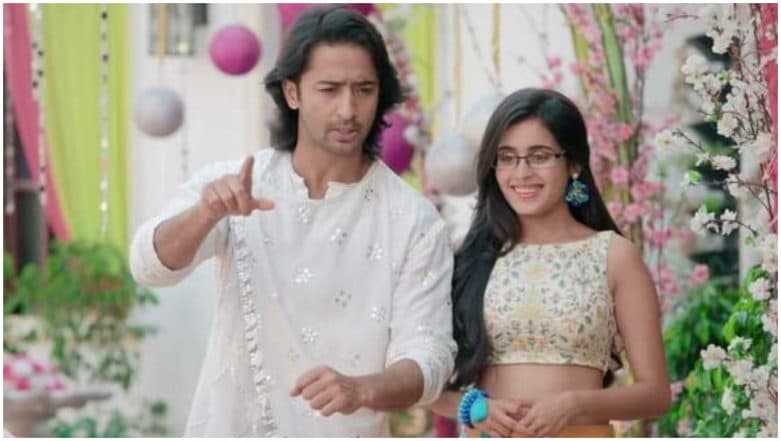 In yesterday's episode of Yeh Rishtey Hain Pyaar Ke, we saw Mishti uses Ananya to execute her plan while Meenakshi is enraged when Parul questions her. Later, an infuriated Kunal vents his anger on Parul. Tonight's episode starts with Rajshree asks Mishti (Rhea Sharma) whether she likes anyone, she says she will not go anywhere leaving her as she loves her so much. Mishti asks if she does any mistake then how will she react, Rajshree says that she will stop talking with her but will not send her anywhere. Mishti gets emotional and cries. Yeh Rishtey Hain Pyaar Ke August 12, 2019, Written Update Full Episode: Mishti Decides to Follow Meenakshi's Instructions and Reveal Kuhu's Truth to the Family Fearing Abir's Revelation.
Next day, the Rajvansh come for the Haldi function, Abir (Saheer Sheikh) thinks that Mishti will never forget this day. Meanwhile, Mishti helps Kuhu getting ready and starts fighting with her as her plan is to hurt her. Mishti sees Varsha coming and starts arguing again so that Varsha comes and gets disturbed. Mishti tells that she gave Kunal to her that is why she is getting married. Mishti even argues with Varsha and goes from there.
On the other side, down Kunal, has planned some surprise for Kuhu and tells all to wait. Just then Mishti comes down and starts shouting at Varsha ad tells she always support Kuhu and blames her for everything. Vishambar comes and asks for the reason. Rajshree also comes to console her, Mishti continues saying that why all blame her even though it is Kuhu's fault. Mishti tells that she is better then Kuhu as she is illegitimate, Varsha slaps Mishti in front of all. Abir wonders why Mishti is doing this all. Yeh Rishtey Hain Pyaar Ke August 9, 2019 Written Update Full Episode: Meenakshi's Plan To Embarrass Maheshwaris Fails as Abir Distracts Mishti and Varsha Applies Mehendi to Kuhu!
Meanwhile, Vishambar asks her why is she doing this, Kuhu says that as she is happy that is why Mishti is jealous. Abir is not ready to accept that Mishti is saying this. Kunal also comes and chides Mishti as how dare she talk with Kuhu like this. Mishti does not listen to anyone and leaves hurting everyone. Mishti gets upset as she had to insult Kuhu and all the family and feels emotional.
Meanwhile, when Mishti is going, she sees Kuhu's friends coming in and is shocked to see them. Meenakshi had planned with Kunal to call all Kuhu's friend as she doubts that the Haldi function was organized by Mishti so that she can do her work when the only family is around.
Kunal tells Mishti that he had called all Kuhu's friend as he wanted to give surprise to her. Meenakshi asks if what Mishti said is true. Varsha says she will say but Shaurya stops her and says he will tell, one by one all come and try to support others. Yashpal tells Meenakshi that this family is trying to support each other in this time of crisis and that we should see that Kuhu is the daughter of this family who will always bond things. Kunal says he is hurt and is not able to take this lie. Rajshree narrates how they brought Kuhu home. Meenakshi asks Mishti why has she done this to her own sister, Mishti says she is not her sister and leaves her hand.
In the precap, Parul chooses to end her silence and converse with Abir.