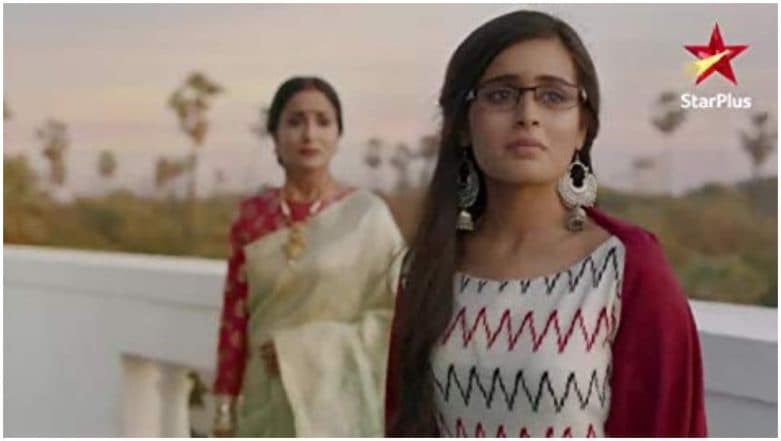 In the last episode of Yeh Rishtey Hain Pyaar Ke, we saw Nidhi overhears a troubling conversation between Abir and Yashpal. Tonight's episode starts with  Abir (Shaheer Sheikh) tells Yashpal to see  Parul who is disturbed about something which she is not revealing to them and shows the photo which she had in his hand. Yashpal tries to change the topic and tells she might be having some other problem. Just then the Maheswari's come home, they greet them and welcome. Mishti (Rhea Sharma) comes in but ignores Abir, he wonders what is the problem and why is she behaving like this. Yeh Rishtey Hain Pyaar Ke August 2, 2019, Written Update Full Episode: Mishti Refuses to Reveal her Feelings for Abir to Save Kuhu and Kunal's Marriage.
Later they all pray together, Varsha is tensed as whether Meenakshi saw Kuhu's Kundali and what will be their reaction. Mishti is tensed as what Meenakshi wants her to do and will it be possible for her to do it. The pandit tells both the families to keep the kundali in front of god and pray. On the other side, Jugnu tells Mishti that Abir is little upset from yesterday, Mishti thinks maybe he is disturbed because of her. Mishti goes to Abir's room to help him.
Meanwhile, Varsha and Jasmit try to exchange the kundali hiding it from Nidhi. Back in the room, Mishti helps Abir inputting the buttons and gets emotional and starts crying, Abir asks for the reason. Mishti tells Abir to leave her as she cannot stay here. Abir requests her to tell the truth and who is stopping her from telling about her feelings, Mishti says that she just wants that Kuhu and Kunal get married without any problem.
Meanwhile, Yashpal comes to Parul and tells her that Abir has doubt on her and if he comes to talk with her then she should change the topic and not let him know the truth. Varsha and Jasmit get success in taking the kundali but when Varsha opens it she finds out that it is Kunal's kundali and not Kuhu and gets tensed and tells Jasmit to go and exchange it again. On the other side, Nidhi comes and gives the kundali to Meenakshi and says that the other kundali has misplaced. When Meenakshi sees the kundali she comes to know that it is Kuhu's kundali.
Abir searches for Mishti, just then Yashpal comes and tells Abir to plan for the bachelor's party. Varsha comes and keeps the kundali back and sees that Kuhu's kundali is not there. On the other side, Meenakshi calls Mishti and hands the kundali to Mishti and tells that she knows the truth that Varsha is not Kuhu's real mother. Meenakshi tells Mishti that she has to reveal this secret to all and prove the Maheshwari's that adopting her was their biggest mistake. Mishti begs her that she cannot do this as she loves them all. Meenakshi tells that if she does not do what she says then Kunal will not get married to Kuhu. Mishti says that she will leave the family and go but Meenakshi says she does not want this as then Abir will follow her.
 In the precap, all are enjoying  Kunal and Kuhu's bachelor party.