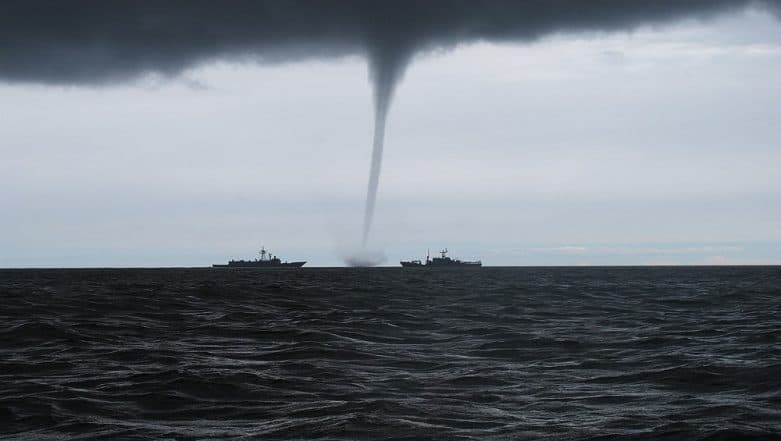 Mumbai, June 10: A giant water tornado, also known as waterspout swirling over the water body and then moving upwards towards the dense dark clouds were seen at Nazare Dam in Pune reportedly. A video of same has gone viral on social media. The locals who witnessed the huge tornado captured the video according to the news reports.
Watch video of water tornado here:
An eyewitness while speaking to The Indian today, said that at around 4:30 pm he saw a white rocket like force coming down from the sky towards the water body of Nazare dam and touched the water. "The water started swirling upwards towards the cloud in full speed. It was a cyclonic formation and was pulling towards the sky, and the speed was tremendous, the water from the river was seen going upwards to the cloud," he said.
The Met department Director Dr. Arvind Sawant was also quoted as saying, "The waterspouts are a unique phenomenon, common in coastal areas. Waterspouts are vertical wind force, a formation of a vertical funnel wherein air carries spray of water upwards towards the cloud it is attached.
A waterspout is an intense columnar vortex - usually appearing as a funnel-shaped cloud - that occurs over a body of water. Reportedly, a similar type of tornado was seen at Majorca beach earlier. The giant waterspout was moving slowly across the ocean off the west coast of the Spanish island.