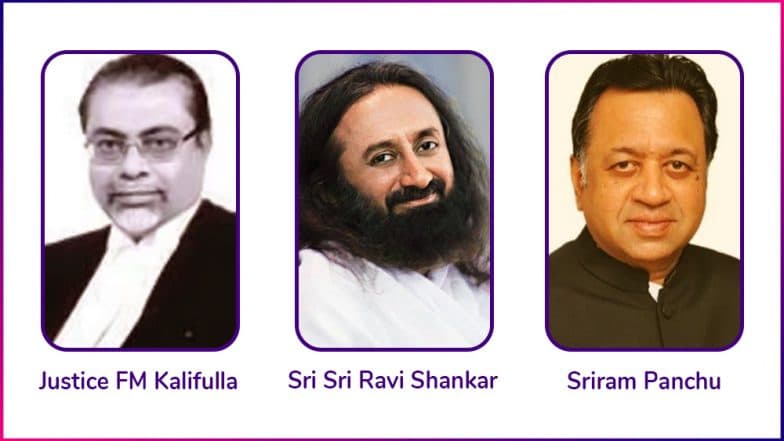 New Delhi, September 16: The three-member mediation panel in the Babri Masjid- Ram Janmabhoomi title dispute case moved a memorandum before the Supreme Court Bench, headed by Chief Justice of India (CJI) Ranjan Gogoi on Monday. The panel sought the top court's direction on requests received from Hindu and Muslim parties seeking resumption of negotiations for settlement of the dispute. The request was made to develop a consensus on the contentious Babri Masjid-Ram Janmbhoomi title dispute case. Ayodhya Case: Mediation Panel Submits Status Report to Supreme Court, CJI Ranjan Gogoi-Led Bench to Hear Matter Tomorrow.
Former apex court judge FMI Kalifulla heads the panel. Meanwhile, Art of Living founder Sri Sri Ravi Shankar and senior advocate Sriram Panchu are the other members of the panel which was formed by the Supreme Court to explore options of an out-of-court settlement. The mediation body submitted its report in a sealed cover to the Supreme Court on August 1. Ayodhya Land Dispute Case: Day-to-Day Hearing From July 25 in Supreme Court If Matter Not Settled by Mediation.
As per media reports, Sunni Waqf Board and the other party in the case Nirvani Akhara wrote a letter to the top court seeking resumption of talks for the settlement of the dispute. The panel carried out negotiations for 155 days.  Sunni Waqf Board had filed a suit for ownership of disputed structure in 1961. Ayodhya Case Hearing: Nirmohi Akhara Lays Full Claim on Disputed Land, Says 'Place Cannot be Considered Mosque If No Prayers Offered'.
The five-judge bench headed by CJI Ranjan Gogoi began day-to-day hearing in the Babri Masjid-Ram Janmbhoomi title dispute case from July this year. In 2010, the Allahabad High Court had ordered the land to be divided into three equal parts between the Nirmohi Akhara, the Sunni Wakf Board and the representative for the deity Ram. However, around 14 appeals are pending in the top court challenging the verdict of Allahabad High Court.