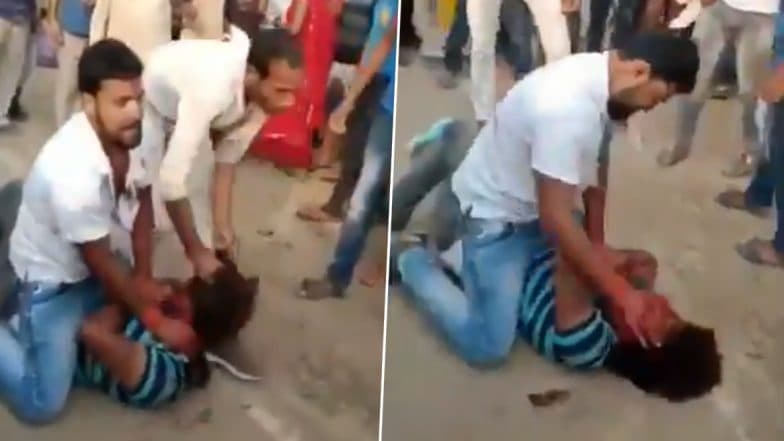 Patna, October 6: A man in Bihar's Kaimur district was mercilessly beaten by a mob which chanted "Jai Shri Ram". The incident was reported from Bhabhua region of Kaimur on Saturday. The victim, whose identity is yet to be confirmed in reports, is the son a local ward councillor. He is accused of shooting a person to death, and the mob attack against him was aimed to seek retribution. Alwar Shocker: 2 Miscreants Force Muslim Couple to Chant 'Jai Shri Ram', One of Them Flashes Before Woman.
Video of the vicious mob attack has gone viral on social media. In the footage, a mob could be seen thrashing the murder-accused. One among the crowd sat on his chest and continued to hit his face and bang it on the floor. This was happening before two personnel of the Bihar police, who were unsuccessfully attempting to separate the attacker from him.
A sizeable crowd remained a mute spectator while the mob continued to perpetrate violence. The onlookers captured the assault on their mobile phones, and some of them could also be heard as joining the "Jai Shri Ram" chants raised by the attackers.
The person who was attacked has survived the brutal assault and is currently being treated at the Kaimur Sadar Hospital. A group of locals, according to reports, protested outside the hospital and asked the police to hand him over to the mob. The protesters said that he should be killed for "shooting to death" an innocent person. They also resorted to stone pelting, as per the reports.
The situation was brought under control after the Kaipur Superintendent of Police, along with the district administration, appealed the locals to call off their demonstration. They have been assured of absolute justice in the case and immediate arrest of the accused after he gets discharged from the hospital.