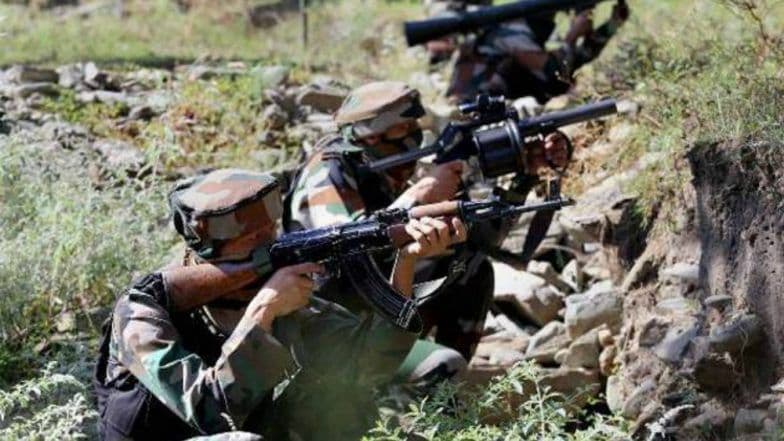 Srinagar, October 11: Ceasefire violations by Pakistan witnessed a five-year high within the first nine months of the current year. Pakistan violated ceasefire 2,318 times in 2019 till October 10 along the Line of Control (LoC) and the International Border (IB). According to Indian Army sources, 147 terrorists have been killed in different operations by the security forces along the LoC and the in the hinterlands. Indian Army Kills 2 Pak Soldiers in Retaliation to Ceasefire Violation; Pakistan Army Raises White Flag to Recover Bodies, Watch Video.
Ceasefire violation incidents increased drastically this year as compared to 2018. In the previous year, there were 1629 ceasefire violations. Meanwhile, 254 terrorists were killed, including foreigner terrorist commanders during operations carried out the Indian security forces. Ceasefire Violation by Pakistan Increased After Pulwama Attack, 35 Incidents Since February 26 IAF Strikes, Says Indian Army.
Earlier in the day, Pakistan also violated ceasefire in Nowshera sector from 5:50 am to 7:30 am. Security personnel Naik Subash Thapa was martyred in the cross border skirmish. Thapa was taken to the command hospital where he succumbed to injuries. The Indian Army gave a befitting reply to Pakistan. Jammu & Kashmir: BSF Officer Martyred, 6-Year-Old Girl Killed as Pakistan Violates Ceasefire in Poonch.
Intelligence reports have revealed that terrorists of Pakistan-based Jaish-e-Mohammed and Lashkar-e-Taiba have been kept in waiting along the LoC to be pushed into Indian Territory, whenever they sense a chance. There have also been attempts by Pakistan to carry out Border Action Team (BAT) attacks on Indian positions at the LoC. A BAT team generally consists of Pakistani army commandos and terrorists.