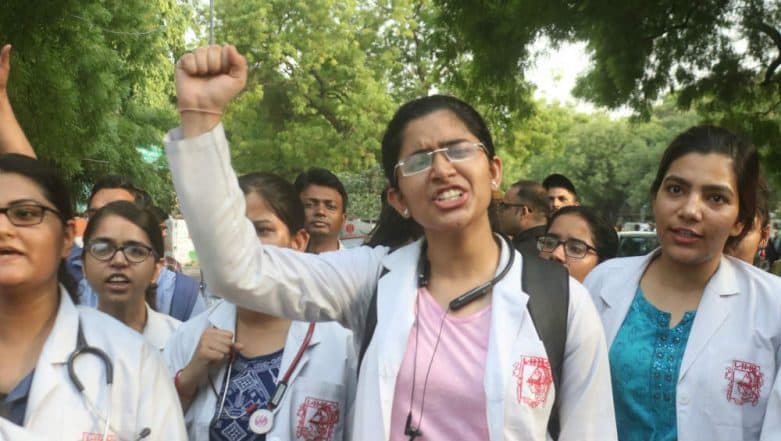 New Delhi, June 14: The ongoing strike by doctors in West Bengal has turned into a nationwide stir with various medical bodies extended support. Junior doctors at the Nil Ratan Sircar Medical College and Hospital went on a strike after an intern was allegedly assaulted by relatives of a patient who died late Monday night due to alleged negligence. Healthcare services across the country will be affected due to the doctors' strike. Here's a list of medical facilities that will remain available or shut.
All outpatient departments or OPDs will be shut today in the All India Institute of Medical Sciences (AIIMS). Senior doctors will be available in the emergency department and the ICUs. Principal, Vice Principal of NRS Medical College Resign as Doctors' Strike Continues.
Around 1,600 resident doctors of Delhi's Safdarjung Hospital will also go on strike. Therefore, no doctor will be available in OPDs. "This will affect the clinics and routine services, however, we will ensure that the emergency department functions properly," said Dr Prakash Thakur, president of Safdarjung Hospital's resident doctors' association.
OPDs at Nizam's Institute of Medical Sciences in Hyderabad will remain shut as doctors have decided to join the strike in solidarity with their protesting colleagues in West Bengal.
In Maharashtra, OPDs, ward and academic services will remain suspended from 8 am to 5 pm today, said Maharashtra Association of Resident Doctors (MARD). The association has assured that emergency services will remain available.
The Indian Medical Association (IMA) has directed the members of all its state branches to stage protests and wear black badges today.
The major impact of the strike will be seen in West Bengal. All doctors at government-run and private hospitals have been on strike.