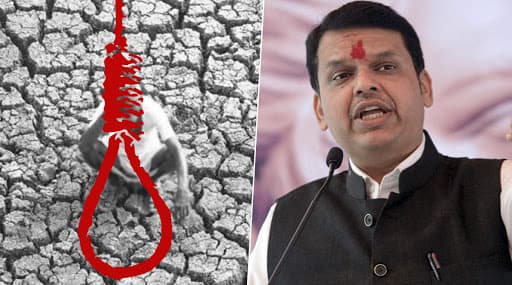 Buldhana, October 13: Amid the reports of failing crops in consecutive seasons in Maharashtra, a sad incident of a debt-ridden 35-year-old farmer -- Raju Talware -- in Buldhana district of Maharashtra has come to light on Sunday. The ailing farmer committed suicide by hanging himself from the tree just before the state Chief Minister Devendra Fadnavis' electoral rally in his area.
Reports state that the debt-laden farmer was wearing a BJP t-shirt when he hung himself from a tree, to draw the attention of the state government towards the agrarian crisis -- prevailing in Maharashtra. According to a TOI report, Buldhana is ranked third among the six most affected districts in the eastern region of Vidharbha -- with 315 farmer suicides. Maharashtra Assembly Elections 2019: Shiv Sena Promises Rs 10 Meal, Medical Checkup for Only Rs 1 for Farmers in Manifesto.
Considering the fact state Labour Minister Sanjay Kute represents the Buldhana seat, the recent rise in the number of farmer suicides in the Vidharba and Marathwada regions are concerning factors for the ruling dispensation. Also, for the last two to three years, the crops failed in the state and farmers are reeling under the pressure of debts taken from private and public banks.
Meanwhile, politics over the agrarian crisis and farmers' suicides have gained momentum in the state during the election season. CM Fadnavis on Saturday attacked the NCP chief Sharad Pawar and blamed him for farmers current situation. He had said, "Farmer suicides are the sin of Sharad Pawar and his government in Maharashtra when farmers started committing suicides."