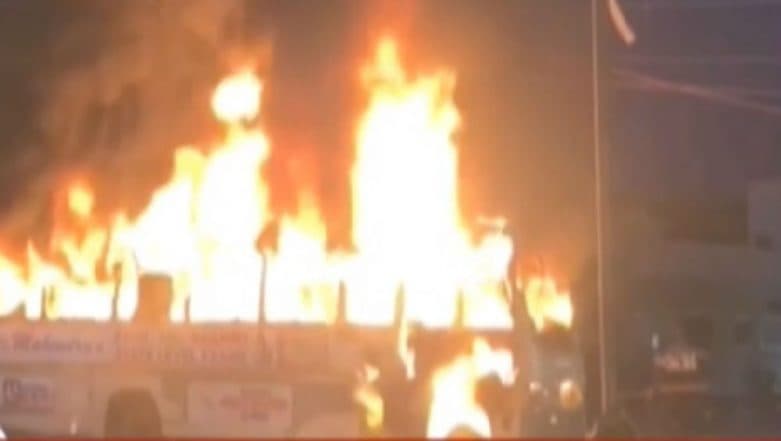 A fire broke out in a moving bus in Uttar Pradesh's capital Lucknow on Saturday evening. The bus reportedly caught fire in Sarojini Nagar locality of Uttar Pradesh. According to media reports, there were 30 passengers on the bus. After the fire broke out in the bus, the passengers started shouting out of fear and panic. The passengers had to break the windows and jump out of the bus to save themselves, said reports. Many passengers got burn injuries. The incident raises questions about the safety of passengers and fire-fighting readiness in public transport and private vehicles. IndiGo Bus Catches Fire at Chennai Airport, Passengers Rescued.
Reports say that those present in the bus noticed smoke billowing out from the bus but before anyone could do anything about it, the fire got intense. The driver and the bus conductor tried to open the emergency exit window but couldn't do so. Finally people had to jump out of the window to save their lives. The bus was carrying employees of a private company. Bihar Bus Accident: 27 Dead After Bus Catches Fire in Motihari District.
Watch Video of the Burning Bus
In a tragic incident in Bihar in the month of May, a total of 27 people lost their lives to fire in a bus, after it overturned, in the state's Motihari district. The bus is said to have overturned and caught fire which led to the death of 27 people in the bus.