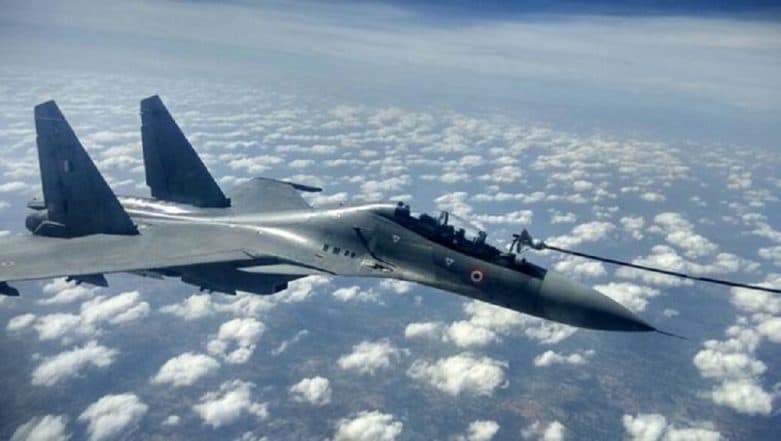 New Delhi, March 5: The Indian Air Force (IAF) on Tuesday rejected Pakistan's claim that it shot down IAF's Su30 MKI fighter jet on February 27. In a statement, the IAF said Pakistan is making a false claim to cover up the loss of Pakistan Air Force's (PAF) aircraft that was downed during the aerial dogfight. "All the Su-30 aircraft engaged in combat landed back safely," the IAF said.
"In their attempt to attack our ground targets, PAF aircraft were engaged effectively. From IAF, Mirage-2000, Su-30 and MiG-21 Bison aircraft were involved in engagement. PAF aircraft were forced to withdraw in hurry, also evident from large missed distances of weapons dropped by them," the air force said. Wing Commander Abhinandan Varthaman Remains in High Spirit Despite Mental Harassment in Pakistan.
"During combat, use of F-16 by PAF and multiple launches of AMRAAM were conclusively observed. Prompt and correct tactical action by Su-30 aircraft, in response to AMRAAM launch, defeated the missile. Parts of the missile fell in area East of Rajouri in Jammu and Kashmir, injuring a civilian on the ground," it added. Pakistan Lie Busted Again! Lockheed Martin Not Suing India For Claiming MiG-21 Shot Down F-16 Fighter Jet.
Rejecting Pakistan's claim that it shot down a Su30 MKI fighter jet, the IAF said: "A detailed report in this regard has already been released by IAF. All the Su-30 aircraft engaged in combat landed back safely. The false claim by Pakistan of shooting down a Su-30, appears to be a cover-up for loss of its own aircraft."
The spokesperson for Pakistan's armed forces Major General Asif Gafoor had claimed that two jets of the Indian air force were shot down and two Indian pilots were in Pakistani territory. However, this number was revised to one IAF jet down and one Indian pilot arrested. However, claims of the IAF Sukhoi jet shot down were amplified in Pakistani news outlets which continued without correction.