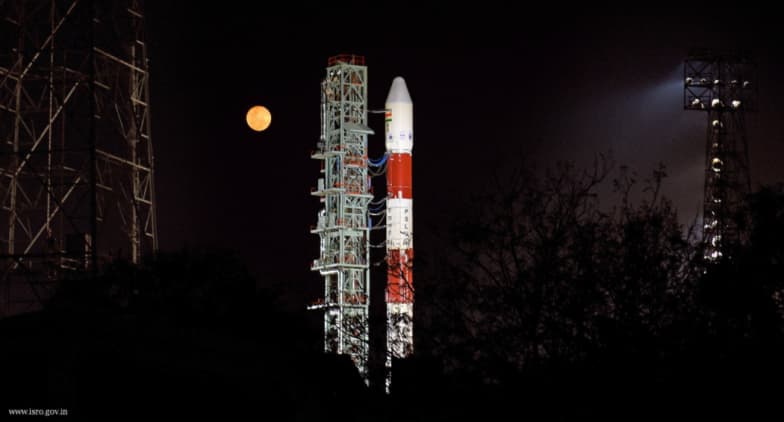 New Delhi, January 24: In a major breakthrough, the ISRO (Indian Space Research Organisation) is all set to launch the world's lightest satellite made by Indian students on Thursday at 11.40 pm. But what makes this more is that ISRO is not charging a single rupee for the launch. The communication satellite, KalamSat, is designed and built by students who work with a private organisation called "Space Kidz India." Along with Kalamsat, the ISRO will also launch Microsat-R, an imaging satellite, by the same launching vehicle. ISRO to Launch World's Smallest Satellite Build by Students 'Kalam SAT' On Board PSLV-C44 on 24th January 2019 .
The Kalamsat satellite weighs just 1.26 kilogram and is lighter than a laptop. It cost Rs 12 lakh to make and it was ready in just six days. But the group took six years to perfect the satellite. The satellite is named after Former President Dr APJ Abdul Kalam as a tribute to him. ISRO Young Scientist Programme: Kids Will Learn How to Build Small Satellites.
"We will be launching 700-kg Microsat-R and Kalamsat with a new variant of Polar Satellite Launch Vehicle (PSLV). In order to reduce the weight and increase the mass, an aluminium tank is used for the first time in the fourth stage," K Sivan, Chairman of ISRO, told IANS.
The Kalmasat-V2 is the lightest satellite in the world, said ISRO. Notably, It is the first satellite designed by an Indian Private entity to be launched by ISRO. Earlier, In 2017, a 64-gram version of Kalamsat named as "Gulab Jamun" was launched by National Aeronautics and Space Administration (NASA), but it never reached the earth's orbit.
Excited as the countdown has begun this evening at 19:37 (IST). Launch is scheduled for tomorrow i.e; 24th Jan at 23:37 (IST). #ISRO #Kalamsat #PSLVC44 https://t.co/4tjh7uOM39

— Space Kidz India (@SpaceKidzIndia) January 23, 2019
Meanwhile, the launch of Kalamsat from Satish Dhawan Space Centre in Sriharikota is scheduled to take place on Thursday at 11:40 pm. For the first time, Polar Satellite Launch Vehicle(PSLV)-C44 rocket will work as a platform for experiments in the space.