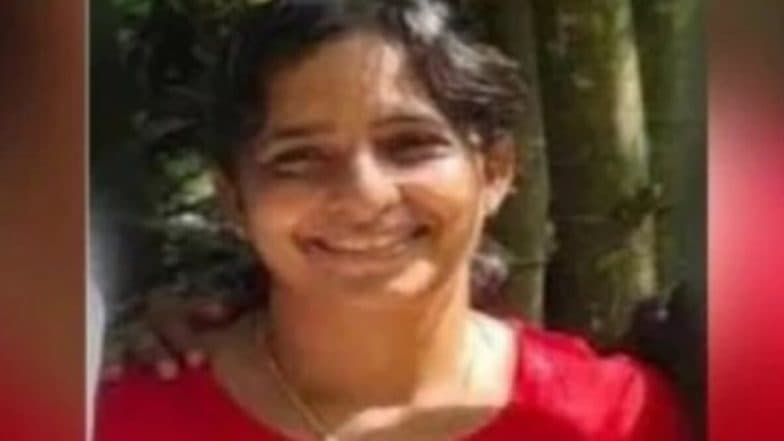 Kozhikode, October 9: In a yet another sensational twist to Kerala's cyanide serial killer case, the main accused Jollyamma alias Jolly Shaju had allegedly planned to commit two more murders. Jolly, who is accused of killing six members of her family over 14 years in Koodathayi village in Kerala's Kozhikode district, had allegedly planned to kill two more children. Serial Killer Jolly Shaju Who Killed 6 Family Members Reveals Reason Why She Murdered Each of Them.
Kozhikode rural SP, KG Simon, who is heading the Special Investigation Team (SIT) in the case, said that the accused had plans to kills two more kids by serving them food laced with cyanide.
What is Jolly Shaju?
Jolly Shaju was a well-known resident of Koodathayi village, where villagers thought that she was a faculty of National Institute of Technology (NIT) till some day ago. The 47-year old Jolly was a religious person who never misses going to the Sunday mass, prayer gathering. The psychopath serial cyanide killer had hidden her real character behind her charming smile.
The family Tree
Jolly got married to Roy Thomas in Kozhikode in 1997. Her parents-in-law, Tom and Annamma Thomas, lived with them. Roy had a brother, Rojo, who lives in the United States. And there was Roy's cousin and Shaju, Jolly's current husband.
What Is The Case?
Jolly, the prime accused in the murder of six members of her family, married her first husband Roy Thomas in 1997. Roy's parents Annamma and Tom Thomas lived with the couple at the house. The first victims in the case were Jolly's in-laws and Husband Roy, followed by Annamma's brother, Mathew Manjadiyil in 2014. There were two other victims Shaju's first wife Sily, who died in 2016, and his minor daughter, Alphine, who was murdered in 2014.
Modus operandi
According to police, all six-victims were poisoned using cyanide-laced food or drinks by the accused. She has also confessed to the crime after getting nabbed. The first murder took place in 2002, starting with Annamma. Six years later, Tom Thoman also passed away.
In 2014, Roy Thomas died after consuming poison-laced rice and curry. He was found dead in the bathroom which was locked from inside. His murder was ruled as suicide owing to his financial condition. Roy's maternal uncle Mathew Manjadiyil became suspicious and wanted a probe into the cause of death. Three years later, Mathew was also swooned and died. According to reports, Jolly gave him cyanide-laced coffee.
In 2014, Shaju's two-year-old daughter Alphine died. The death was attributed due to choking. Two years later, Shaju's wife also died after Jolly gave her a glass of water. Shaju, Jolly's second husband, had attributed her death to an epilepsy episode.
An SIT has been formed to probe the deaths between 2000-2016 after receiving a complaint from Roy's brother, Rojo. Jolly has been arrested only in a case relating to the death of her husband due to the presence of cyanide in his post-mortem report. Her second husband Shaju was grilled for almost a day on Monday and was let off after police recorded his statement. Meanwhile, police are yet to identify the presence of cyanide after exhuming the remains.