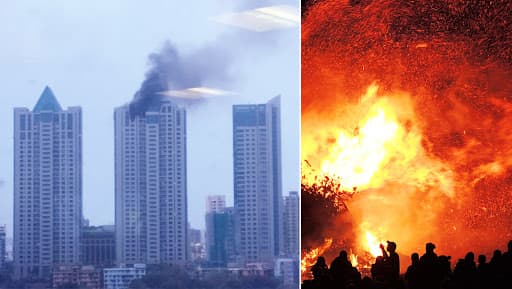 Mumbai, January 16: With incidents of frequent fires in high-rise building taking place in Mumbai, the fire brigade department is considering to procure drones to help its personnel in the fire-fighting operations.
The aim of procuring the drones, as officials say, is to help the fire-fighting personnel to give an idea of the actual intensity of the blaze. Also, the officials opine that many a times the officers reach the location, they are unable to the fire spot and even the ladder is not much helpful. Another aspect added with the drone is that it can fly high and would help the fire-dousing officials to strategise their plan in a better way. Mumbai Fire Brigade Raids Cricket Club of India, Bombay Gymkhana in Its Drive Against Fire Safety Norms Violations.
However, one of the officials added that for this plan to be implemented, the Mumbai Fire Brigade would need the permissions from police and civil aviation authorities. He said, as reported by TOI, the plan is in the initial stage.
Speaking to the national daily, another fire official said, "We are yet to find a model and are in talks with several vendors. For starters, we plan to buy just one drone as a pilot project. Later, one would be bought for each command centres." The official said that currently there are six fire command centres in the city.