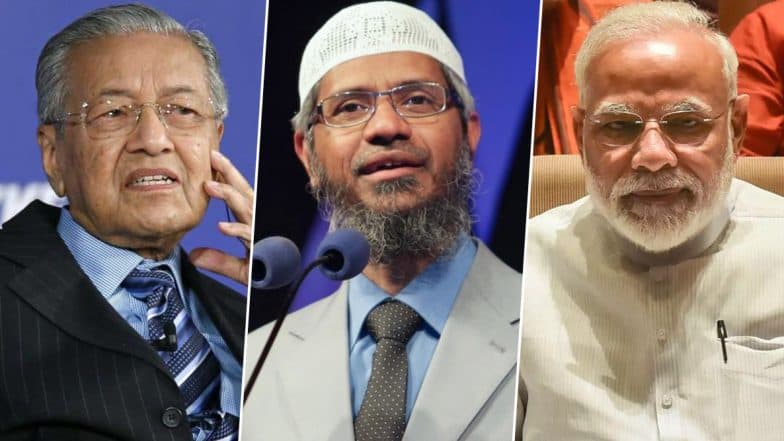 Kuala Lumpur, September 17: Malaysian Prime Minister Mahathir Mohamad rejected India's claim that PM Narendra Modi raised the issue of extradition of controversial Islamic preacher Zakir Naik during their meeting on the sidelines of his Eastern Economic Forum (EEF) earlier this month. According to media reports from Malaysia, Mahathir Mohamad said that PM Narendra Modi didn't ask him to send Zakir Naik back to India. PM Narendra Modi Discusses Zakir Naik's Extradition With Malaysian Counterpart Mahathir Bin Mohamad at EEF 2019 in Vladivostok.
"Not many countries want him. I met with Modi. He didn't ask me for this man," Mahathir said in an interview a local media. "Well, he's not a national of this country. He has been given, I think by the previous government, permanent residence status. A permanent resident isn't supposed to make any comments on this country's systems and politics. He has breached that. He is now not allowed to speak," Malaysian Prime Minister added. Malaysia Govt Bars Zakir Naik From Addressing Event After His 'Racist' Comments on Ethnic Minorities.
Mahathir, however, said that Malaysia was looking for a country where Zakir Naik could be sent. "We are trying to find some place he can go to but at the moment, no one wants to accept him," he said. Mahathir's statement contradicts with India's Foreign Secretary Vijay Gokhale's press briefing where he had said that PM Modi raised the issue of Zakir Naik's extradition with Malaysian Prime Minister.
PM Modi took up the matter with Mohamad during their bilateral meeting here on the sidelines of the Eastern Economic Forum, Gokhale had told media persons. It was decided that officials of the two countries will be in touch, he said, while responding to a question on the issue in the context of India's request to Malaysia for Naik's extradition. Malaysian Prime Minister responded positively, sources had told IANS.
Naik is wanted in India for serious charges related to terrorism after his name cropped in connection with a ghastly terror attack at Holey Artisan Bakery in Dhaka in July 2016. He is also facing an inquiry set up by the government of Mahathir Mohamad, who had initially said he could not accept calls to deport the preacher to India as he would be "killed" there.