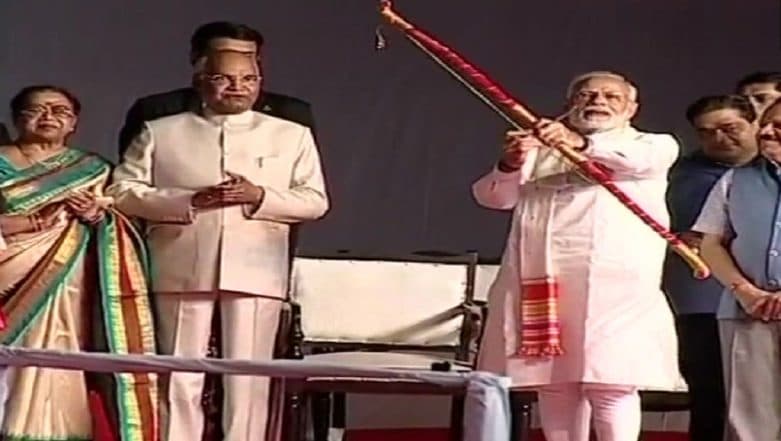 New Delhi, October 19: Prime Minister Narendra Modi, who attended the Dussehra celebrations along with President Ram Nath Kovind at the Luv-Kush Ramlila being held at the Lal-Qila maidan, burned the Ravan effigy with massive applause from the gathering.
PM Modi struck the symbolic arrow towards the effigy of Ravan, considered a cruel and oppressive figure by Hindu believers. The burning of his effigy marks the victory of the good over the evil.
After Modi hit the symbolic arrow, the organisers set the three grand effigies of Ravana on fire. Vijayadashmi 2018 Greetings: PM Narendra Modi, Rahul Gandhi, Yogi Adityanath, Shashi Tharoor and Other Leaders Extend Wishes to the Nation.
Delhi: Prime Minister Narendra Modi burns effigy of Ravan during #Dusherra celebrations at Luv-Kush Ramlila in Lal Qila Maidan. pic.twitter.com/TER0Dzw6UZ

— ANI (@ANI) October 19, 2018
Earlier in the day, President Kovind and PM Modi extended Dussehra and Vijayadashami greetings to the nation.
On the occasion of Durga Puja and Vijayadashmi, Dussehra greetings and Shubho Bijoya to fellow citizens. This is a celebration of the victory of good over evil. May the day bring happiness to our families and our shared society," President Kovind tweeted.
Prime Minister Modi tweeted: "Vijayadashami greetings to everyone."
Vijayadashami is majorly celebrated in eastern states of India, marking the end of Durga Puja. Similarly, Dussehra is widely celebrated in northern India when effigies of Ravana, Kumbhkaran and Meghnad are burnt with fireworks marking the destruction of evil.
(With ANI inputs)