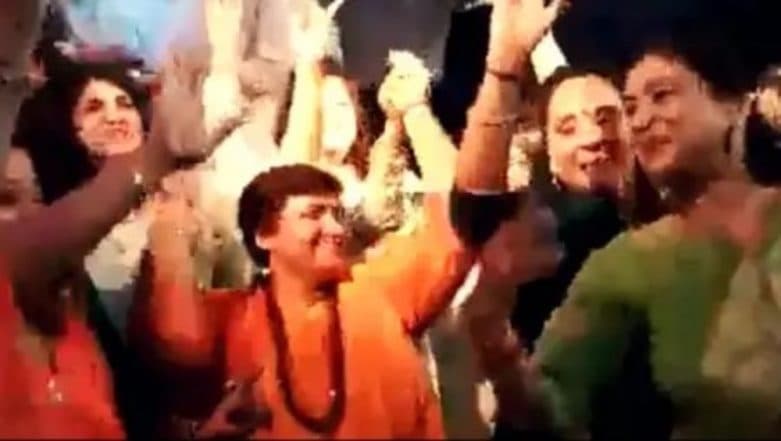 Bhopal, April 24: Bharatiya Janata Party (BJP) Lok Sabha candidate from Bhopal Sadhvi Pragya Singh Thakur who has been in controversies for past few days was seen dancing with women supporters in a viral video. The video has been receiving criticism by oppositions leaders. The 2:28-minute video has been going viral in social media. Sadhvi Pragya Thakur Apologises, Calls 26/11 Mumbai Attacks Hero Hemant Karkare a 'Martyr'.
In the controversial video, Sadhvi Pragya can be seen dancing in a Sindhi song along with other BJP women supporters. According to reports, the video is shot when Sadhvi Pragya met women's of Sindhi society. The opposition leaders are targeting the BJP Bhopal candidate by saying that she comes to file nomination in a wheelchair but now seen dancing.
Watch Video:
Sadhvi Pragya had earlier sparked controversy by insulting 26/11 martyr Hemant Karkare. "Hemant Karkare falsely implicated me [in Malegaon blasts] and treated me very badly. I told him your entire dynasty will be erased. He died of his karma," Sadhvi Pragya said.
After receiving criticism from all the corners, the BJP in a statement said that the party considers Karkare a martyr. Sadhvi Pragya also apologised and said, "I take back my statement and apologize for it, it was my personal pain." The BJP candidate is fielded against Congress leader Digvijaya Singh.