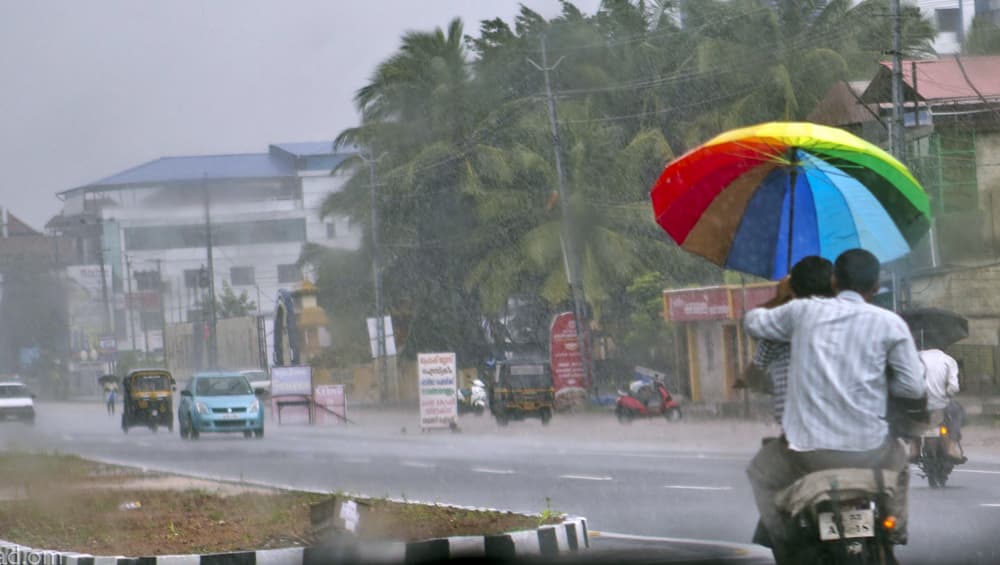 New Delhi, October 17: The northeast monsoon gained momentum in the southern states of India including Tamil Nadu, Andhra Pradesh, Karnataka and Kerala since October 16. According to a weather bulletin by the India Meteorological Department (IMD), southwest monsoon has withdrawn completely from the entire country and the northeast monsoon has commenced, bringing heavy rainfall in the southern states. "Southwest monsoon has withdrawn from the entire country and simultaneously Northeast monsoon rains have commenced over Tamil Nadu and adjoining areas of Andhra Pradesh, Karnataka and Kerala on October 16, 2019", the IMD said. Tamil Nadu Rains: Roof of House in Rameswaram Collapses Due to Heavy Rainfall After Northeast Monsoon Hits State.
Under the influence of northeast monsoon, light to moderate widespread rains very likely to occur over coastal Andhra Pradesh, Karnataka and Kerala in the coming days and fairly widespread rains over Rayalseema on October 16 and 17. The IMD added saying that light to moderate rainfall was received today at few places over Telangana. Monsoon 2019: Highest September Rainfall Recorded in 2019 After 102 Years, Says IMD Report.
The IMD further added saying that a cyclonic circulation lies over east-central Arabian sea off south Karnataka coast and extends up to 0.9 km above mean seal level. The trough at mean sea level runs from north Sri Lanka coast to above cyclonic circulation and extends up to 1.5 km above mean sea level. "Under the influence of the above systems, fairly widespread to widespread rainfall with isolated heavy falls likely over south peninsular India during next 3-4 days", the IMD said.
The main difference between southwest monsoon and north-east monsoon is that the southwest monsoon brings rainfall over the entire country, while the north-east monsoon brings rainfall only over Tamil Nadu, coastal Andhra Pradesh, Rayalseema, Kerala, and south-interior Karnataka during the three months, i.e. from October to December.