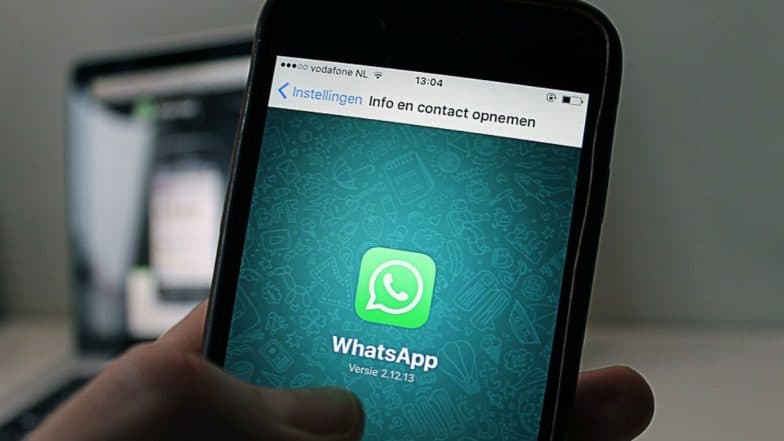 New Delhi, November 1: WhatsApp on Friday refuted the Central government's allegation that it had kept the snooping on Indian citizens a secret. In a statement, Facebook-owned mobile messaging said that their highest priority is the privacy and security of WhatsApp users. "In May, we quickly resolved a security issue and notified relevant Indian and international government authorities," said WhatsApp in a statement. WhatsApp Says Israeli Spyware Pegasus Was Used to Snoop on Indian Journalists, Dalit Activists.
It added that since the attack, the tech company has "worked to identify targeted users to ask the courts to hold the international spyware firm known as the NSO Group accountable." WhatsApp Snooping Row: Government Directs Messaging App to Explain Privacy Breach After Social Media Platform Confirms Surveillance Through Israeli Spyware Pegasus.
"We agree with the government of India, it is critical that together we do all we can to protect users from hackers attempting to weaken security. WhatsApp remains committed to the protection of all user messages through the product we provide," the statement added.
WhatsApp on October ends informed few Indian human rights activists and journalists that they were among 1,400 people where spied globally by unnamed entities using Israeli spyware known as Pegasus.
The government, which is being criticised by Opposition and journalists, on Friday demanded clarification from the tech company and question why the information was not revealed to the Indian authorities despite recent meeting with WhatsApp CEO.
Meanwhile, the WhatsApp has accused Israeli NSO Group of helping unnamed entities' spies to hack over 1000 users across the world. The targeted users mainly include political dissidents, diplomats, journalists and government officials. The Facebook-owned messaging company is also planning to sue NSO Group in the international court.